5 Different Types of Interracial Couples
Posted by James, 04 Apr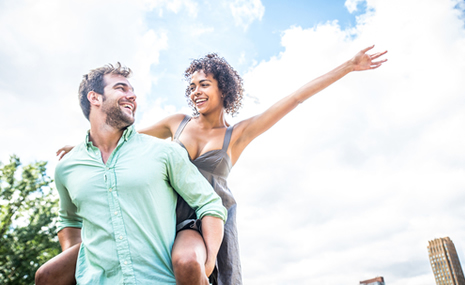 Interracial dating is an increasingly common choice in today's society, especially in multicultural communities where inclusion and cultural difference are celebrated.
However, it could still present somewhat of a challenge for a multicultural couple to deal with different backgrounds, religions, opinions and traditions and fusing them somehow to form a new family unit with which to face the world.
Find your soulmate on InterracialDatingCentral










Here are just some of the ways couples do it:
1. The Rebellious Interracial Couple
This is the Romeo and Juliet of couples; both go against the expectations of their respective cultures or families and never look back. They have eyes only for each other and anyone who doesn't like it doesn't matter. They have no fear. They surround themselves with supportive friends and enjoy life the way they want to. They are not afraid to defend their relationship at all.
2. The Scared Interracial Couple
This is the couple that kept it really quiet when they started dating and even a few years down the line, avoid PDA's at every turn. Outside perception matters a lot to them and they prefer to avoid causing offence rather than take the risk that they draw unwanted attention to themselves. They almost expect stares and whispers and feel the need to politely explain their relationship.
3. The 'Best of Both Worlds' Couple
This is the couple that has the traditional Nigerian wedding and also the white wedding in the Highlands with the groomsmen in formal Kilts and Sporrans; where each of them are poles apart culturally and maintain those differences but yet they just seem to click and throw it all into the melting pot. Their children and friends get the best of both worlds because this couple compromises on nothing. They have it all. They enjoy each other's backgrounds and yet fully embrace their own.
4. The Re-Cultured Interracial Couple
This couple share the same views, tastes and outlooks on life. Each person is perhaps influenced less by their respective background and has taken on the culture of the place where they live. This is their common ground and the one that affects them the most as individual people. They are influenced by life as they find it, not on how their parents or grandparents have taught them it is. This is the couple that decides for themselves what is important to them and does it their own way.
5. The Awkward Interracial Couple
This is the couple that in public just does not make sense. They maintain their cultural differences only when among their own friends and families and this becomes uncomfortable when they are together as a couple. He is withdrawn and looks irritated when they are her family and she rolls her eyes when they are with his. They have no interest in each other's cultures or backgrounds but have enough in common to get along perfectly fine on their own, at least for a period of time. These issues can place wear and tear on a relationship and lead to many arguments and differences further down the road.
1 responses to "5 Different Types of Interracial Couples"
Leave a reply
You must be logged in to post a comment.