25 Funny Pick Up Lines To Use On Guys That Will Do The Magic
Posted by Robert, 04 Dec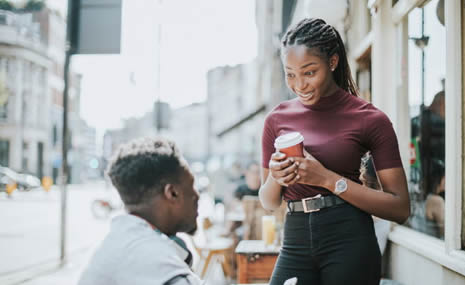 If you are having a hard time coming up with funny pick up lines to use on guys, today, love is all colors has got you covered. Scroll on and try these...
Tried and tested girls pick up lines for guys
Find your soulmate on InterracialDatingCentral










Maybe you've heard guys use funny pick up lines on you before. Since you're an empowered woman it's time for you to up your game in the cheesy pickup scene. There are many different kinds of girls pick up lines for guys you can steal.
What's better than seeing a guy you think is cute and making him laugh — or making him think about you in naughty ways? With these pick up lines to use on guys, you'll never be at a loss for words. These pick up lines are some of the best cheesy flirting strategies you'll ever need. Love is all colors so show off how colorful you are when you get your flirt on!
1. "Can I get you a Martini cause Olive you!"- This one is perfect at the craft cocktail bar. Use it sparingly, because it's so cheesy! Especially if the olives are stuffed with blue cheese.
2. "I'm not into the whole line 'to have and to hold'. I don't ever want to get married. But I do think the best thing for you to hold in life is my butt!" - Don't' use this line if you actually do want to get married someday. Because when you say something like that, a guy will hold you to your word after he tries to touch your booty.
3. "Are you a barista? Because I like you a latte!" - This one is good for you to use after you've had at least two heavily caffeinated beverages at the local cafe. Make sure to eat plenty of chocolate covered espresso beans beforehand too.
4. "Hey, I've got to tell you something — ABCDEFG! I can't stop myself, because you're just my type!" - OK, I'll admit it, this is one of the worst pick up lines for guys I've ever heard in my life. Don't really use it, unless you want to get some serious side eye.
5. "Have you ever been to the Dali Museum? Cause you're truly a work of art" - If he knows who Salvador Dali is, he should take this as a compliment.
6. "You can drive me crazy and you don't even need any keys!" - Such pick up lines for him are a great way to get a guy's attention.
7. "Hi, there! Do you like English Breakfast? Because you look like you would. You're a hot-tea!" - This is one of the funniest pick up lines for him!.
8. "Did you see a Genie today? I'm here now. What's your second wish?"
9. "I'm definitely going to need a shower because I want you to be my dirty little secret." - Oh, get it, girl! This is one of the best dirty pick up lines to use on guys.
More funny pick up lines to use on guys tonight!
10. "Are you from Mars? Because I feel like my heart has been abducted!"
11. "You're hotter than my car when it overheats in the summer."
12. "You can kiss me if I'm wrong. But the earth is flat, right?"
13. "That shirt looks great on you. But I would look better. On you." - This is a racy one for girls pick up lines for guys.
14. "I want to sit on your lap and have a conversation about the first thing that pops up."
15. "Your mamma must be growing weed, cause you're dope!" - Use such pick up line strategies if he looks like he can get the joke.
16. "I'm not Betty Flinstone, but I'll make your bedrock." - Rock his world with the best pick up lines for guys STAT!
17. "As long as you've always got a face, I'll always have a place to sit".
18. "You must love milk because something did yo body good".
19. "Guess what my dress is made of. Girlfriend material." - Use such funny pick up lines for girls to use on guys because they work!.
20. "I can't find my phone number. Can I have yours?"
21. "Did it hurt when you fell in love with me?" - Ouch. It won't hurt that bad to add some love into the pick up lines to use on guys.
22. "They say nothing lasts forever. But will you be my Mr. Tonight? " - This is one of my favorite pick up lines for girls to use.
23. "Are you enlightened? Because you're already adding meaning to my life."
24. "Is it hot in here, or is it just us?"
25. "I'm not too good at math, but if you give me your number I'll see if I can figure out what to do with it."
So these tried and true dirty pick up lines to use on guys and not-so-dirty ones should get you more guys than you can handle. Do you think you'll be able to handle all of them? You'll have so many guys blowing up your phone, you won't know what to do with all of them.
Using pick up lines is fun and can start a playful flirtation from the very start. When you use a funny pick up line for guys, they will know you are the kind of girl who doesn't mind being cheesy and playful.
Read this article on pick up line strategies you can employ to coin those irresistible lines.
Responses to "25 Funny Pick Up Lines To Use On Guys That Will Do The Magic"
Be the first to leave a comment
You must be logged in to post a comment.