10 of the best active date ideas
Posted by Lana, 28 Sep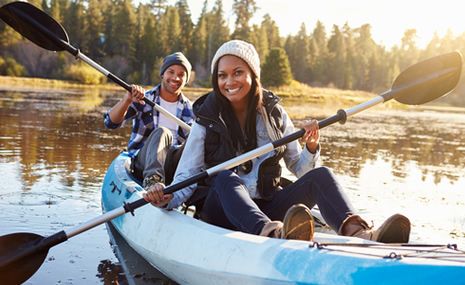 Looking for some active date ideas to spice up your relationship during summer? On warmer days, it is a great opportunity to plan some creative dates. Breaking a little sweat or doing some fitness dating is something to consider since the weather allows it. The sun rays will do you and your significant other some good as it does boosts the production of hormones which can be a good mood booster. Who doesn't need that feel-good vibe? And the better your mood, the better your date, hence the better the relationship. Plus a better mood = hotter sex.
Love is All Colors brings some fun outdoor date ideas to help you think beyond the bar or restaurant dates. Scroll on for some of our best 10.
Find your soulmate on InterracialDatingCentral










Outdoor date activities to consider
You have to admit that dating is a competitive sport. It's the world where you are in constant competition to win your significant other's affection, especially when there is a rival in the picture. You will definitely have to opt for date ideas that will show just how thoughtful and creative you are.
Now that you got the girl, you definitely need to keep things fun and fresh. Try getting out of the dinner and a movie rut or just hanging out. Much as there is nothing wrong with that, you can't just be doing dinner and a movie every time you decide to take the girl out. You need to impress her and stand out. You want her to be the one telling her friends about your unforgettable active date ideas.
The best dates are those that take a couple outside their comfort zone. Not too far… Just outside that comfortable envelope. The main reason to consider this is because it creates excitement. Fitness dating
will get the blood pumping. And your significant other will always associate that excitement with you.
In the belief that a creative date will move you ahead in the dating game, here are some outdoor date ideas you might want to try out.
Hiking
Have you ever considered going hiking as a great and romantic alternative to some overpriced dinner? There is nothing as great as enjoying some fresh air in the summer. I would understand why hiking will be quite a different cup of tea all together having been used to the chilled out restaurant atmosphere. It can actually be a great getaway for you and your special someone. Now, if it's your first hiking date, here are some things you and your partner can do to make it worthwhile.
You could take a late afternoon hike and picnic on a west pointing vantage point as the two of you enjoy the romantic sunset. Then throw on your headlamps and hike back under the starlight.
Remember to bring a well-cushioned sleeping pad and a cushy blanket and make the most of it by snuggling close to each other because it will colder or windier. So if you are trying to win someone over, then make the most of the fact that the weather is in your favor.
River rafting
If you feel like your relationship is stuck in a rut, its time to put some zing into it like planning a day of river rafting or kayaking. Much as it can be a bit scary for someone who is not used to water outdoor date activities, it can also be very adventurous.
Can you imagine that adrenaline rush when you hit the rapids? This kind of experience will release the right hormones backed by the excitement and passion that will go a long way into strengthening your bond. And besides that, there is something about the ambiance of just being on the water. Such a thrilling adventure will definitely bring you closer.
The other thing related to this is fishing. When the weather is warm anything water-related is a go. You can do a late afternoon boat ride coupled with a small fishing expedition and dinner. This is a great way to drop your anchor, sit and catch up, as you catch yourself some dinner away from distractions.
Indoor Rock Climbing
Sitting face to face across from one another racking your brain with some small talk can be fine for the first date. But after date three, you gotta put your creative hat on. Now, if you are looking for some physically active date ideas, introducing some physical challenges can be a great bonding experience.
There is nothing as great as the idea of competing against your mate in some sport. So how about seeking out a rock climbing adventure at an indoor climbing gym? Here, you can test each other's limits and if you have never done it, then it's a great way to just learn something new. Can you imagine the thrill you can get by just watching your date climb ascend and descend an artificial rock?
To make it fun, have your date race against a stranger as you cheer them on or you could race against each other and the winner gets... ;-)
State Fairs/Carnivals
This might not be real fitness but it sure as hell will get your blood pumping. If you know your date has a love for roller coasters then this particular kind of date can be the perfect fun outing for them. One thing that makes this kind of setting have an advantage is the carnival games. Now if you are good at them, you can play the hero and win some very cute prizes.
One thing that has made the carnival date be on our list of active date ideas is the fact that there are lots of competitive games you and your date can engage in. Plus there is nothing as romantic as doing corny things, like riding on the carousel.
State fairs are also a great way for you and your special other to check out some cute animals, grab some wine as you catch a concert, go on rides, and watch interesting people enjoying themselves. Trust me, there is always something you won't want to miss. Perfect group-double date.
Skydiving
If your girl is a daredevil then she might not mind trying out skydiving. It's definitely an outlandish date. That said, this kind of date may work in your favor.
If you are looking for that feeling of free-falling and the adrenaline rush that comes with it, then there is absolutely no substitute to skydiving. This is one of the physical activities that will give you a story to tell. There are lots of skydiving locations if you are considering this date idea. And finding a dedicated instructor to help you overcome pre-jump anxiety and fear won't be hard.
If your first date was amazing, then you better plan an action-filled second date to outshine the first one. SKydiving will definitely do it for you. It might be a bit on the expensive side, but your relationship is worth it.
Roller skating
If you are looking for some heart-thumping and exciting way to enjoy the sun rays with your significant other, then rent out some roller skates for the afternoon. You could also channel your former inner self by going to an indoor roller rink and try a couple of hours of roller skating.
If for instance you are good at this and your date isn't, this can be one of the memorable active date ideas to engage in. While teaching him or her, there will definitely be moments where he or she will fall in your arms as they try to get some balance.
Challenge each other to participate in contests like the Chicken Dance on Skates and the Hokey Pokey. This is a great way to enjoy each other's company while people watch and cheer you on. It's also some great physical exercise. Grab some pizza later on your way home. What a great combination.
Camping or glamping
If you are looking to enhance your weekend getaways with your partner to include more novelty and adventure, then try camping. But if the two of you have little experience "roughing it" in the great outdoors, you don't really have to completely immerse yourselves in the camping experience. Luckily, glamping is something that's been gaining popularity.
To put it simply, glamping is glamorous camping. You get to enjoy the beauty of the great outdoors and luxury accommodation. It's for those nature enthusiasts who are scared of the intensive outdoor experience of camping.
Camping and glamping are great activities for couples who just want to escape their daily routines as they enjoy the beauty and tranquility that nature has to offer. Check out the sceneries and have fun. There will be a lot to talk about besides work.
If you're camping near a lake or river, while there, diversify by checking out kayak rentals or any water sport activities you can participate in and enjoy the thrilling experience. Explore and enjoy all that nature has to offer. By the time you get back home, you will be truly refreshed and much closer.
Mountain Biking
If you and your partner are having a hard time enjoying outdoor activities, then maybe you need to just ease into the idea of outdoor dates. Biking is one of the activities to consider. If your partner is adamant about the outdoors, you might have an easier time luring them out for the sceneries that mountain biking offers.
Now if you don't enjoy the idea of having to pedal up a mountain try compromising so that the idea is more appealing. If you leave near the beach for instance, how about cycling to the beach later in the day when the sun begins to set. That way, you will be killing two birds with one stone. The good thing is that at this time, the beaches are less crowded. Take a walk, grab some early dinner and cycle back home.
Outdoor concert
If you want an inexpensive outdoor date experience, then you need to consider outdoor concerts. The performances are really fun and they are usually free. This is a great way to know a lot about the person you are dating based on the type of music they like. It's also a good way to know if you and your date have something in common. You get to enjoy the weather, sip some wine or beer, sing and dance along.
One thing that makes this such a perfect date idea is the dancing bit. You can get goofy without a care. You get to be as free as you can with your mate. You can sing along badly and laugh about it. Its a great way for couples to connect. Trust me, it will be the kind of date that will be music to your ears.
Horse riding
There are lots of horse races and polo matches. Now, you might not be the one participating but you can have so much fun screaming while cheering your favorite horse. To add a little fun to the whole affair, you could try betting against each other. Nothing brings couples closer than a little competitive fun.
Besides that, you could also go to a horse riding stable, rent a horse and ride together on one horse. How's that for closeness?
Ready to try out these physically active date ideas?
Backed with the ideas that we have provided above, I am sure you can't wait to head outdoors. Whatever you choose, make sure that both of you are up for the idea. Always consider the tastes of the other person. You could also just decide to do something new together and see if its something you could both be into.
So don't limit your dates to dinners and movies. Be adventurous. Anything out of your comfort zone can really rekindle the flame and chemistry since it's something new that you are bringing into your relationship to spice it up. Make every experience as memorable as possible.
Read this article on some outlandish date ideas you could try out to impress your date.
Responses to "10 of the best active date ideas"
Be the first to leave a comment
You must be logged in to post a comment.