Video: Their First Date Was on Valentine's Day
Posted by Leticia, 28 Jun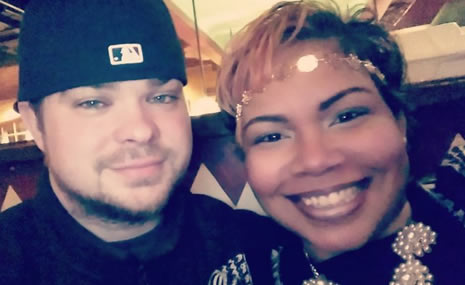 When Sharmela posted a profile, she was hoping to attract a quality man. She also wanted to date interracially, which is why she chose our online dating service. "I'd had no luck with men in my area," admits Sharmela. She was "uncertain but hopeful" that we could make a difference for her.
Find your soulmate on InterracialDatingCentral










The man she met here, Chris, agrees with that, saying he was "unsure but willing to try" our interracial brand of Internet personals. "I hadn't dated in a while," he recalls. "I wanted to try something new."
Christelyn Karazin recounts how the two made their online connection in the video below:
It only took a few months for these two to connect online. "He had the most gentle eyes," observes Sharmela. That and other things attracted her to his profile. "I sent a Flirt to him, but I don't think he saw it," she laughs. "Then I got a message from him saying that he upgraded his account and saw that I saved him as a Favorite."
Chris checked out Sharmela's profile and his attention lingered on her picture. "She had an amazing smile," he notes. His curiosity was piqued.
The ensuing chitchat convinced the pair to move ahead. "I decided to throw caution to the wind [and go out with Chris]," Sharmela informs us. "He had an amazing personality!"
Chris doesn't remember having any second thoughts about the idea of a date. "She suggested we do something fun," he tells us. "I was all for it. She was great."
So what did they do on this date? "I went to Boston for the first time and spent Valentine's Day with him," smiles Sharmela. "We had dinner, brunch, movies. It was nice."
Chris was happily surprised that Sharmela came up to Boston to spend that particular day with him. "I couldn't believe it," he chuckles. "We did stuff all weekend."
Their initial attraction was still there, in person. "HE WAS SOOOOOO HANDSOME!" declares Sharmela. Not to be outdone, Chris relays his first thought upon seeing Sharmela in the flesh. "GORGEOUS!"
It's safe to say that Date No. 1 was wildly successful. "He was everything I hoped he'd be," confirms Sharmela. "She was so much fun," Chris grins. "I was very comfortable with her." He adds that he was "totally sure" they should get together again.
No doubt about it, Chris and Sharmela had a good feeling about this match, right from the start. "I knew the first night, during our conversations, that this was special," says Sharmela. "I knew when I first saw her," adds Chris.
Beyond their undeniable chemistry, the pair also discovered that they have a lot in common. "We're into the same things," Sharmela points out.
We asked if they were each other's "type," at least as they understood it going into this relationship. "She's what I have always wanted," Chris says with a decisive nod of assent. "He's my ideal," is Sharmela's unequivocal answer. "I never knew someone like him existed."
As with many couples who meet online, the pair has battled the distance bugaboo. "Distance [is an obstacle], but we're working on it," says Chris.
That doesn't bother his lady. "I'm so hopeful for the future!" says an excited Sharmela. Chris joins in, "I feel the same as her… Definitely!"
They also agree on their advice to singles hoping to find a mate. "Be open-minded and patient. Know what you want."
Chris and Sharmela certainly know what they want – to keep the good times rolling!
4 responses to "Video: Their First Date Was on Valentine's Day"
Leave a reply
You must be logged in to post a comment.