Utilize stress in intelligent ways
Posted by Jordan, 22 Feb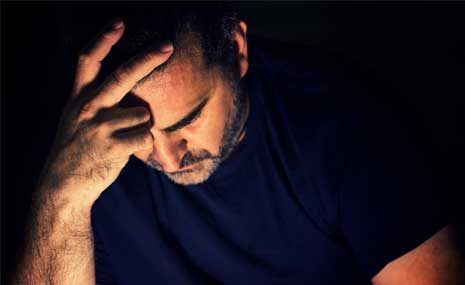 Dr. Ben Michaelis (@DrBenMichaelis) is a motivational psychologist and author of Your Next Big Thing: Ten Small Steps to Get Moving and Get Happy. Here, he shows us how to stop trying to avoid stress and, instead, utilize it in intelligent ways.
"The tighter we hold onto things and try to control them, oftentimes the more difficult it is to have influence over them." -Dr. Ben Michaelis
Your perfect partner could be online right now...
What are you looking for?
The Cheat Sheet:
Stress is inevitable, so stop trying to avoid it and learn to leverage it for constructive purposes.
Is anxiety the same thing as stress?
Understand how cognitive biases get in your way.
Learn the difference between eustress and distress — and how to get the right amount of the right kind of stress when you need it.
How do we overcome our evolutionary programming to focus on actual problems vs. imaginary problems?
And so much more…
Trying to avoid stress is, itself, stressful — because it's impossible. But there's actually such a thing as good stress, and we can use it to our advantage instead of letting it take the wind out of our sails.
Through using a blended approach in his practice, motivational psychologist and author of Your Next Big Thing: Ten Small Steps to Get Moving and Get Happy Dr. Ben Michaelis helps his patients achieve a strong sense of self and balance. On episode 488 of The Art of Charm, he talks about utilizing stress instead of trying to avoid it, ending monotonous routines, and leading lives of purpose.
Listen to this episode of The Art of Charm in its entirety to pick up some more tips from Ben (and the ancient Stoics) about dealing with — rather than avoiding — stress, and to understand how missing a train can be an opportunity for mental exercise rather than a world-ending tragedy.
Jordan Harbinger is a Wall Street lawyer turned Social Dynamics expert and coach. For 11 years, he hosted The Art of Charm Podcast - regularly in the iTunes top 50 and downloaded over four million times a month. Now Jordan interviews the world's top performers - from legendary musicians to intelligence operatives, iconoclastic writers to visionary change-makers at The Jordan Harbinger Show, consistently holding in the iTunes top 100 after just a few weeks. You can also interact with Jordan on Facebook or Instagram.
Responses to "Utilize stress in intelligent ways"
Be the first to leave a comment
You must be logged in to post a comment.