This Date Was a Perfect 10
Posted by Leticia, 01 Jan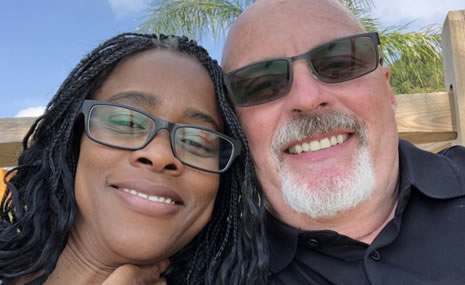 "I was on a quest to find romance," Cloretta says to explain why she signed up on our site with the handle "Smile625." She admits that "your site was not my first experience at online dating."
Mark came to us on a recommendation. "I was inspired by a friend," he says of his decision to try Internet personals for the first time. "My first experience was relatively easy to navigate. In all honesty, my experience was great. I met an awesome girl in the first week!"
Find your soulmate on InterracialDatingCentral










That girl, of course, was Cloretta. She admits she didn't go into this bursting with optimism, but she did think she could meet some of her key requirements in a mate. "I was confident about meeting someone with shared values," she says.
Mark was even warier. "I don't believe you can find true love online. I believe love happens over time. I was confident I would meet someone who shared similar interests and values. And I did meet that person. Story to be continued…"
Both singles were only with us a week before the meeting. "Mark reached out to me by email," recalls Cloretta. "After reading his profile (username: "Devildawg") he seemed honest and intelligent. Then I looked at his photos and felt an attraction."
A good photo was also important for Mark. "Her picture was obviously a first impression, due to physical attraction. She only posted one picture, which was beautiful, but I liked her profile. It was clear and I sensed she was honest about what she was looking for."
Their chit-chat quickly moved off the site and their courtship moved forward, soon thereafter. "I felt it was time, after communicating for some time off the dating site," recalls Cloretta. "We chatted for a few days," Mark informs us. "I could tell she was upfront. I felt she was honest. After chatting, I felt she was someone I wanted to meet."
So meet they did. "We met at the riverfront seafood restaurant," Cloretta relays. "We walked on the pier, picked up seashells… Overall it was an amazing date with a great guy." Her first thought about Mark was, "He was real and handsome!" Cloretta quickly got over her first-date jitters. "Although a little nervous, I felt relaxed with him."
Here are Mark's recollections of that night. "We met at an out of the way, quiet location. We had lunch and then walked on the waterfront. We listened to music and just got to know each other face to face. I could tell from a few minutes with her that this beautiful lady was real, and someone I wanted to get to know better!" Mark was immediately struck by Cloretta's presence, as well. "She was more beautiful than I imagined, and she was confident and relaxed."
Did anything about the date catch Mark off guard? "The most surprising thing was how beautiful this lady is," he says. "And how well we got along. As first dates go, it was a 10. She was better than her profile." He adds that he was "absolutely sure" they'd go out a second time." Was Cloretta sure, too? Heck yeah! "I was sure before going on our FIRST date, based on the conversation we had… And he's a hottie."
Mark's profile didn't convey "his attentiveness and calming demeanor," two qualities that Cloretta admires about him. As for her, "Her confidence and intelligence, and just being able to interact" really struck Mark in person.
At this point, it seems like the sky is the limit for these two. "He's what I've been looking for," declares Cloretta. Mark says, "She was more than I could have imagined!" He felt this could be special "on our first date, the moment I saw her. The first time I held her hand. The first time I kissed her." Cloretta was thinking that way even earlier, actually. "I knew he was special before our first date, but him holding me in his arms and kissing me made it super-special."
Cloretta is excited about what the future holds for them. "Knowing that we found each other is life-changing," she says. "Waking up and thinking about him, and the anticipation of seeing him" keeps her loving life. Mark can't wait to see what happens next. "I have something to look forward to," he reflects. "I anticipate hearing from her. I anticipate how great the next time I see her will be. I look forward to knowing her. I look forward to each day!"
Here are Cloretta's thoughts on the sometimes time-consuming online dating process. "I say keep the faith, knowing that it's possible if we believe. Be truthful and honest." This suggestion resonates with Mark, too. "I would say, be honest. Because, in the end, if you really want to meet someone and want it to move forward, honesty is crucial. Real pictures, real profile."
Let's hope this promising online pairing turns into a real love story for the ages.
8 responses to "This Date Was a Perfect 10"
Leave a reply
You must be logged in to post a comment.