She Won the Love Lottery
Posted by Leticia, 10 Oct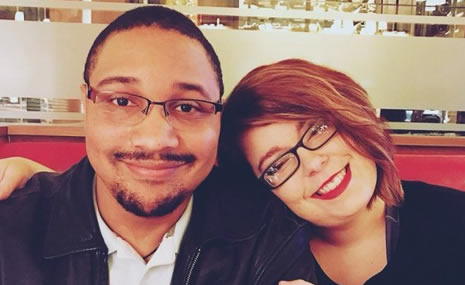 The tale of "LimeLady" and "Raymus92" might sound a little like a superhero team-up, but it's actually a love story with an online dating twist. Sam (LimeLady) had tried another option before posting her profile on our site. "Your site was one of my first two experiences with it [Internet personals]," she tells us. "And I can say I liked your site layout and the workings of it much better than the other one."
Tony was a total newbie! "Yes, your site was my first experience," he acknowledges. "What inspired me to try online dating was that I wanted to find love. I was not confident at all, though." Of course, neither was Sam. "I was treating it like trying to win the lottery," she notes. "I had some hope but thought it was a longshot."
Your perfect partner could be online right now...
What are you looking for?
Amazingly, she was a member for "not even a full day," Sam informs us, before spotting Tony's profile and liking what she saw. "He was a pastry chef," she recalls. "His profile made him seem sweet (which he is!) and overall made me want to reach out to him."
Tony hadn't been with us that long, either. "A few months, not quite a year," he says. He was eager to respond when he received Sam's Flirt. "I thought she was very pretty, and she seemed nice," he says. "I really wanted to get to know her."
After some promising conversations, they decided to date the traditional way – in person – and fortunately, distance didn't make that impossible, even if the geography involved wasn't ideal. "He made an hour-and-15-minute drive just to see me," Sam notes, impressed. "We met at a quaint little restaurant on the river!"
Tony picks up the story there. "We ate inside, then went out onto the deck to spend some time together and talk more," he relates. "The lunch portion of the date was spent in silence, mostly, with us getting comfortable together in person."
We asked Sam what ran through her mind the first time she laid eyes on Tony in real life. "I thought he was cute, not meaning to be too much of a middle schooler when I say that, but it was true! I could tell he was nervous, but I will never forget the smile he had on his face when we saw each other in person for the first time."
Tony confirms her assumption. "I was VERY nervous," he admits now. "Our mothers had to drive us, as we both weren't able to drive at that point. She had warned me to have a good handshake when I shook her mother's hand." So when Sam's mother appeared, Tony's palm moistened with sweat. "I thought, 'don't mess up… Oh my God, there she is. Don't mess up the handshake!'"
Apparently, the handshake went well! For Sam, the evening's biggest surprise was "how comfortable I was around him, right away. I've always been uncomfortable around most people, especially men. But he made me feel safe, right away." Tony was struck by "how down to earth and real she was." He says he has had some bad experiences with overly materialistic people and really appreciates that Sam is the complete opposite of that.
Afterward, Tony was "150 percent sure" they'd see each other a second time. Sam nods emphatically. "I was very sure! As soon as we parted ways, I was movie swooning and wishing I could see him again right away."
Comparing the real person to his profile, Sam says the initial details were sketchy. "His profile didn't say much about the real him," she accedes. "But what I read between the lines is exactly who he is: a sweet, goofy, caring and loving man who would do anything for the people he cares about." She compares him favorably to what she considered her 'type,' adding, "He wasn't really what I THOUGHT my type was, but in all reality, due to some bad past experiences, my 'type' was a defense mechanism. Now I couldn't picture myself with anyone else!"
On the topic of types, Tony has this to contribute. "I honestly don't remember what my type was before her, but she is my favorite person!"
We asked the happy couple when they knew this was no ordinary romance. "It was honestly a day or two after the first time we said, 'I love you,'" Sam confesses. "That may seem bad, but I did love him. It wasn't until I realized that just thinking of him made me smile from ear to ear, and I couldn't wait to talk to him each night; then I knew. I just knew."
Tony's recollection of the "moment" takes us to another point in time entirely. "We were on Skype talking, about a month after we met. I knew I loved her then."
For Sam and Tony, the impact their love affair has had on them is monumental. "Finding love reassured me that love IS real," declares Sam. "What you dream of may not be just like a movie, but it can be pretty close, with the right person." Tony's life until meeting her was very different, he says. "Before I met her, I was a very lonely human being who never thought I would find love."
Sam has lots to say to women posting profiles on our site. Here are her recommended strategies…
"My first piece of advice is, make your profile short and sweet, ladies. Guys aren't going to read it all; it's your picture and the first few sentences... If that! Pack a punch in the first few words, basically like a summary of what you're about to dive into. Still, keep the rest fairly short, but make sure to go into SOME detail. We all want the guy who reads the whole thing, so make sure it's all there in case he's the one looking at it!"
The next thing she wants to stress is the importance of letting this process run its course. "I know we tire of hearing it, but patience is key," Sam says. "I was expecting to wait forever. It's only by chance that I met Tony on my first day of exploring the site. He would have been worth waiting for, though!"
Tony's remarks for singles are a little more succinct. "Love does exist," he says. "It's not always a fantasy. For the most part, it is just two people clicking with each other. So my piece of advice is, don't give up on love. Sometimes you really have to stop and re-examine your life before you can really look for love… that's what I had to do!"
1 responses to "She Won the Love Lottery"
Leave a reply
You must be logged in to post a comment.