She Hadn't Smiled Like That in a Long Time
Posted by Leticia, 14 May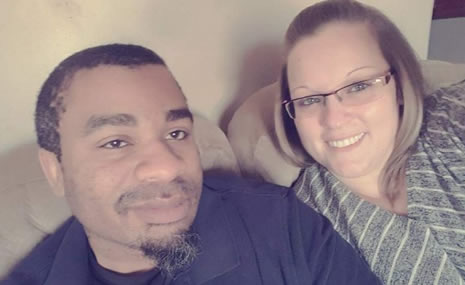 The ballad of "Sweetpea_85" and "PaperRhino66" begins with the mutual decision, unbeknownst to one another, to post profiles on our site. Its rousing final verse features a wedding celebration. "We talked about marriage pretty quick," said Christina. "We felt we had known each other forever, because of our communication. I came to his house to visit one weekend and he had flowers and candles lit. He told me to sit down, and then he got down on one knee and asked. It wasn't much, but it was everything to me."
Christina's love song is unlike anything she's experienced before. "Being married prior for 10 years, then meeting him and seeing a totally different side of romance and love, has made me realize the difference between feeling and being in love versus just hearing or saying it."
Find your soulmate on InterracialDatingCentral










David is the one, actually, who came up with this musical metaphor. "I feel like I'm living a love song," he told us. "Before, I only sang along to them. I'd never had the true feeling of being in love… I just thought I was."
It all began when Christina decided to broaden her horizons, romantically. "I wanted to venture away from the city I grew up in, but I wasn't a fan of the party/bar scene," she explained. "This was my first experience with online dating. I wanted to find someone special!"
When she signed up, Christina didn't have any idea how things would turn out. "I wasn't too confident, because I was nervous," she recalled. But her partner thought it was promising, right from the start. "I was very confident that I'd meet someone," David declared.
He must have noticed Christina's profile the moment it went up because she'd only been with us a week when he reached out. So what reeled him in? "Her smile, but it took me a week to send her a Flirt because I thought she was out of my league."
Christina picked up the story there. "He sent a Flirt to me on a Sunday and I responded that evening. Then we exchanged phone numbers and texted."
For her, his initial efforts demanded a response. "He was cute, and the total opposite of what I thought I wanted," admitted Christina. "I knew I needed to try something new. He is very quiet! Total opposite of me."
As their courtship continued, Christina's eagerness to see David grew. "I was constantly looking for a text from him and couldn't stop smiling or thinking about him."
David had a hard time processing his feelings, which were new to him. "I felt a feeling I hadn't before... I felt like I was in love with her right away. We talked so much before we met that I knew she was my type."
The plan to meet in person was simple. "We met halfway between where we lived: Bloomington, Indiana," recounted Christina. David added, "We talked for three hours in a small cafe in Fountain Square." They certainly picked up where they'd left off. "We never had an awkward silence, and our communication was amazing," noted Christina. "He was cuter and shyer in person, but I instantly felt a connection." For his part, David was mesmerized by the woman in front of him. "I couldn't stop looking at how beautiful her eyes were," he said. "We talked for three hours and never missed a beat."
It didn't take long for these two to have a distinct feeling that something rare and precious was happening here. "I knew from our first date when we're in the café, that this relationship was special," contended David. "I knew I wanted to marry her!" For Christina, that moment came while they were apart – physically, at least. "I was living with my mom and we were video chatting," she remembers. "I hadn't smiled like that in a long time."
"Dealing with exes" was a challenge for them, Christina confided. "We also lived three hours away from each other. I moved to his city and couldn't find a job, so I moved back to my city and he is transferring jobs so we can be a normal married couple living together." David put in that there was another hurdle to leap, as well. "What she said, plus introducing our kids to each other and becoming one family."
Of all the many things Christina loves about David, one of the most important is how he expresses his feelings for her. "He shows his appreciation and shows me a love that is meaningful," said Christina. "It doesn't seem forced or routine." David is continually struck by the depth of her feelings, as well. "Her passion is deep about her kids, family, and our relationship," he observed.
The happy couple had a few suggestions for our readers. "Go for it," urged David. "Don't be afraid to take chances." Christina seconded that idea. "Take a risk and step outside of your normal. If it's meant to be, it will happen. I live by the rule that everything happens for a reason."
We hope their love song never ends.
Responses to "She Hadn't Smiled Like That in a Long Time"
Be the first to leave a comment
You must be logged in to post a comment.