Scared to Let Her Guard Down
Posted by Leticia, 08 Sep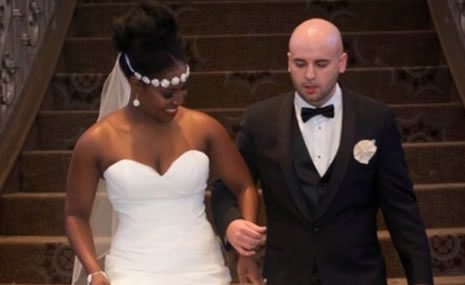 A few months into Ashley's first online dating experience and James's third, they found each other on our site. "I was not confident at all," Ashley reveals about her state of mind at that moment. "I had no idea what to expect [from Internet personals]."
In this particular story it was the lady who found the gentleman. Ashley says she really liked James' profile – especially the pics… "He was so cute!" Trusting her gut reaction, Ashley decided to get in touch with James. "I sent the first message out," she recalls. "Flirting, and not expecting a response."
Find your soulmate on InterracialDatingCentral










James had no qualms about responding, as he found Ashley charming. "She was very outgoing! She also had similar goals as myself." From there the correspondence came fast and furious. Ashley was encouraged by what she learned about the person behind the profile. "He felt very comfortable and familiar while talking through email," Ashley notes.
Feeling fully ready to convene on the other side of the screen, Ashley and James made plans to meet. The location for Date No. 1 was the Cheesecake Factory, with its enormous menu. The man who walked through the door met with Ashley's approval… "He's so handsome, and has some beautiful skin," she remembers thinking. James' first thought, he tells us, was also physical in nature: "She's got a cute booty!"
As the date progressed, James became increasingly impressed with Ashley's personality. "She was very warm and caring," he says. Ashley liked that he didn't overdo it. "He was very soft spoken, and still is. He hasn't changed one bit!"
They parted that night giddy with optimism. "I called a friend as soon as I walked away from him to say, 'he was so cute and sweet, and I absolutely have to see him again!'" laughs Ashley. Unsurprisingly, James was ready to see her again "right away."
They did see each other again – many times, in fact. But realizing he might be right for her only freaked Ashley out, at first. "I was scared to let my guard down, because I had been hurt so many times in the past," she admits. James nods. "She was used to being left in previous relationships. I had to show her that I was here to stay!"
There was a pretty big bump in the road, too. "We got into a disagreement a few months into the relationship," Ashley tells us. "I stayed in bed and cried all day because I was so sad. That had never happened in my life! I realized that I cared for him deeply." She may not have known it at the time, but she had nothing to worry about. "I felt like I didn't want to live without her," confesses James. It was then that the duo realized they were truly in love.
Ashley appreciates many qualities about her partner that weren't covered in James's dating profile. "He's emotional... very modest and humble," she says to list a few. James admires Ashley's ambitions. "I knew my type was a woman with goals, and she still challenges herself daily, which I love."
James also wants to highlight Ashley's nurturing nature. "She's very attentive," he observes. "She always makes sure I'm healthy and happy." Ashley says that thoughtfulness is a two-way street with them. "I didn't realize how serious he is about love," she marvels. "He always makes it a point to SHOW me he loves me daily, not just tell me."
With such an intense and intensely fulfilling relationship, it was only a matter of time before James popped the question. Ashley fills us in on the details. "After one year of dating, we went to a new restaurant and, in the middle of the restaurant, he got down on one knee and proposed!" Her answer came without hesitation: "Yes!"
Here are Ashley's reflections on what their relationship has meant to her. "Love makes life worth living," she says. "I also just became the mother to a beautiful baby girl because of love!"
"I'm the happiest I've ever been," declares James. "I have my best friend with me, for life."
To singles searching for a romance of this magnitude, Ashley says, "Don't be discouraged... KEEP GOING!" James reminds everyone that "the right person will come along, and you'll just know; you won't have to force it."
18 responses to "Scared to Let Her Guard Down"
Leave a reply
You must be logged in to post a comment.