Play life away...
Posted by Jordan, 20 Feb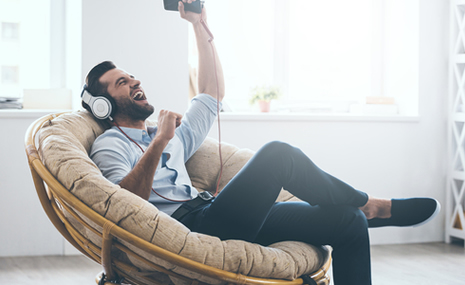 "Man is God's plaything, and that is the best part of him. Therefore every man and woman should live life accordingly, and play the noblest games... What, then, is the right way of living? Life must be lived as play."
Plato Charlie was living the dream. Then he burnt out and started having panic attacks. As in, curl-up-on-the-floor and shiver panic attacks. In this episode of the show, we'll discuss how and why he burned out, what he did about it, and what you can do if you find yourself in the same shoes.
Your perfect partner could be online right now...
What are you looking for?
Also:
The mental shift ("A-ha!" moment) that allowed Charlie to snap out of his anxiety and workaholism, and finally enjoy life again

How the Work mentality affects us on an individual and cultural level, and why people who choose to play for a living are more fulfilled and successful

How to boost your productivity by having guilt-free fun Why "anchors" fuel anxiety, and how to remove them

How to optimize your sleeping schedule

Three common nutrient deficiencies that amplify anxiety, and how to easily fix them
About Charlie: Charlie Hoehn is the author of Play It Away: A Workaholic's Cure for Anxiety, and a marketing strategist for authors and start-ups. After graduating from Colorado State University in 2008, he studied under and worked with a number of bestselling authors, such as Ramit Sethi, Seth Godin, and Tucker Max. He worked alongside Tim Ferriss during the production and launch of The 4-Hour Body, which hit #1 on the New York Times bestseller list and sold over a million copies. Charlie is also the author of Recession-Proof Graduate: How To Land The Job You Want By Doing Free Work, a popular career guide that's been downloaded more than 150,000 times. His work has been featured by The New York Times, NPR, CBS, TEDx, and Business Insider.
Play the audio away...
Jordan Harbinger is a Wall Street lawyer turned Social Dynamics expert and coach. For 11 years, he hosted The Art of Charm Podcast - regularly in the iTunes top 50 and downloaded over four million times a month. Now Jordan interviews the world's top performers - from legendary musicians to intelligence operatives, iconoclastic writers to visionary change-makers at The Jordan Harbinger Show, consistently holding in the iTunes top 100 after just a few weeks. You can also interact with Jordan on Facebook or Instagram.
Responses to "Play life away..."
Be the first to leave a comment
You must be logged in to post a comment.