Pizza, Records and Rum
Posted by Leticia, 09 Dec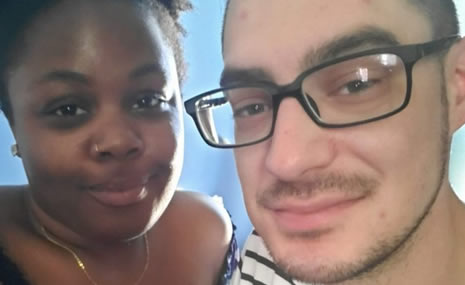 Denee's dating life had already benefitted from online personals by the time she found us. "I've had some luck with online dating before, so I decided to give this site a chance," she explains. "Plus, the members [here] seemed to be more serious than members on different sites… But after many failed first dates, I wasn't that confident that I would find love online." Nonetheless, she posted a profile on our site with the fun username "ChocoLushz" and hoped for the best.
David didn't want to be stuck in the shallow dating pool his city had to offer, so he ventured online. "I was inspired because I wanted to find my soulmate, and I felt no reason to limit myself to such a small space as my immediate area," David tells us. After trying some other sites first, he signed up here. We asked David to convey his degree of confidence in this endeavor. "I'd say I was somewhat confident [about finding love]," he answers.
Your perfect partner could be online right now...
What are you looking for?
It only took these two a month or two of membership to cross paths. "He reached out to me through chat," Denee remembers. "He was really polite in his first message." That impressed her, and so did his profile. But was David her type? "He was kinda similar, except for his body type. I liked that he was spiritual and artistic, just like me," she says. Having things in common was part of the attraction for David, too. "We had so many shared interests, like spirituality," he notes.
That was all it took to get the ball rolling… The initial messaging back and forth went well and these two began to bond. Neither single was looking for just a pen pal, so they soon began thinking about next steps. "I decided I was ready [to meet in person] because that is literally the entire point of the site," laughs David. Denee was ready, too. "After talking for a few days, I wanted to see how strong our connection would be in person," she tells us. "And I really wanted to cuddle with him!"
Denee describes the circumstances of their first meeting in the flesh. "We met in New York – he stayed over for the weekend in New Jersey. We went to a street fair in Jersey City, looked through records, and then had pizza and rum." David has fond memories of their date, adding that the "local fair had really cool music."
Things got off on the wrong foot though, for Denee. "I was slightly annoyed because he wouldn't tell me exactly where he was so I could find him," she recalls of the minutes leading up to their first meeting, "But when I saw him, my annoyed feeling went away. I thought, 'He's so laid back, and mad tall!'" Denee thinks David's profile didn't do him justice – it didn't convey "that he is really silly and a very thoughtful, considerate person."
David was certainly glad she found him that day in Jersey City. "She was exactly as I thought she'd be, but my first impression was basically that she was even more beautiful in person," he reveals. According to Denee, the most surprising thing about their date was "how comfortable we were around each other." David alludes to the same thing, saying he was most surprised "that we got really intimate on the first date."
When they parted company again both parties involved felt confident this was not the end of their story. David was "very sure" and Denee confirms that a second date seemed inevitable, declaring, "I was 100 percent sure that we would go out again!"
"Distance and finances" did present challenges for the new couple as they tried to develop their relationship further. But even living in disparate areas they came to a point where both people realized this relationship was worth fighting for. Denee remembers when that moment came for her. "I was feeling anxious and he said something that calmed my nerves, and not many people can do that."
David's big moment came during one of the times when they were apart. "I was in my room and I found myself writing poetry about her." Yeah, being inspired to write poetry about someone is a very good sign!
Now David and Denee are doing their best to make it work. Being together has brought many benefits to their lives. "I feel like I can take on the world and be the best version of myself," proclaims Denee. David believes Denee has changed him, for the better. "I am more patient and understanding," he says.
Here are Denee's encouraging sentiments for those seeking to leverage our site to find love. "Have an open mind, be patient, and don't limit yourself to people of your own background or town."
David has two pieces of advice to share with all the fellas reading this, though the second one is not to be taken literally: "Just be yourself – don't hide behind anything. Also, look for the freakiest lady and lock her [butt] up!"
Responses to "Pizza, Records and Rum"
Be the first to leave a comment
You must be logged in to post a comment.