It Only Took Two Weeks to Find the Love of a Lifetime
Posted by Leticia, 25 Nov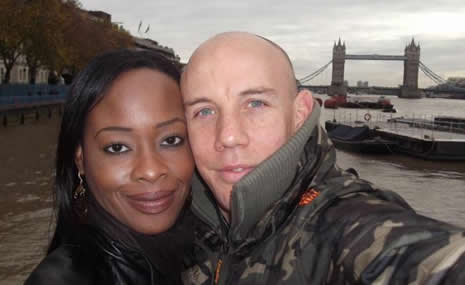 When asked about our site, a friend who had tried it gave Matt good feedback. Still, he sure hadn't met "the one" anywhere else—who was to say our site was the place to find her? "I wasn't that confident and didn't expect too much," Matt confesses now. But...within two weeks, he had his eye on someone special: "OneSexySista" was her username.
"I saw her and thought she looked beautiful," he says. "When I read her profile, I wanted to know more." Nadiya had never tried online dating before and didn't know what to expect. But she'd only been a member of our site for three weeks when "Cornerback23" came calling. "He Flirted with me… then I Flirted back," Nadiya says with a giggle.
Find your soulmate on InterracialDatingCentral










"We had so much in common from the very start," beams Matt. But they lived nowhere near each other, so it was some time before they had their first date. Matt made Nadiya a nice dinner. She says "I found him confident, passionate and VERY attractive." Matt was struck by Nadiya's in-person presence. "Her smile lit up the room!"
There's no telling whether a great chemistry online or even on the phone will translate to a date. We encourage our members to meet before feelings become too strong. Matt and Nadiya had passed the test.
"He makes me laugh all the time," Nadiya says. "I love when he looks at me. His eyes twinkle and I just want to be in his arms."
Matt feels like the luckiest man in the world. "She's the sweetest, most caring and genuine person I could've wished to meet," he says.
As their relationship has progressed, the couple are making plans to close the distance between their residences. In fact, they intend to live together—as husband and wife. "I'm happily engaged and eager to marry my best friend!" exclaims Nadiya.
With their wedding now only a few months away, Matt says he can't wait to buy a home and start a family with Nadiya. "Thanks again for giving me the chance to meet my soulmate!"
41 responses to "It Only Took Two Weeks to Find the Love of a Lifetime"
Leave a reply
You must be logged in to post a comment.