Is female submission a requirement for black men to be happy in relationships?
Posted by James, 26 Jul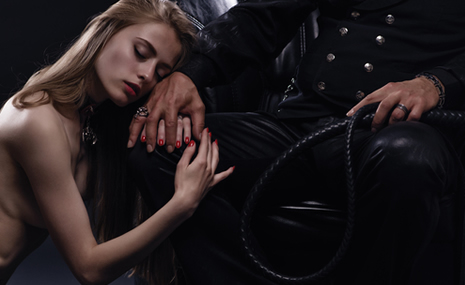 "… there's nothing wrong with being assertive and confident but sometimes black women go too far with this "strong black woman" crap. Black men run off with white girls because so to speak they let them be "the man"… White women don't constantly try to test them or try to prove they are as "strong" as they are, they are more submissive. this might be a controversial thing to say but black men and men in general prefer submissive women because it makes them feel on top and massages there egos. Submissive women are the most desirable and since this is a trait apparently most black women lack this could be described as one of the major reasons why a high percentage of black women are single… My point is if black women IN GENERAL value being feminine and submissive as much as they value being strong and assertive maybe those brothers that ran off with those white women might start coming back." Comment from forum topic: Black Men Don't Like "Strong Black Women"
See, when people throw the question: "Why do Black men date outside their race (or White women for that matter)", the most common answer has always been "Because they are not capable of dealing with and handling strong Black women". And this is the same answer given to the question: "Why are many Black women single?".
Does this mean Black men can only be happy in relationships where the woman is weak and/or submissive? If yes why is the black man so thrilled with the whole idea of a woman letting him walk all over her?
Find your soulmate on InterracialDatingCentral










In my opinion as a White man, I think most Black men and women for that matter take this whole submission thing all wrong. And all this comes in because of trust issues. So many stereotypes have been formed about the Black man that it's very hard for Black women to trust the man enough to let him take care of her and the family. Its hard to believe that it will be smooth sailing all the way - that the man is there to stay. And being strong has become more like survival tactic. At the same time, the Black woman has been portrayed as the b***h so much so that some Black men are not even willing to just try being with one. They don't believe, a strong black woman can be feminine enough in a relationship. However, I believe any woman can only let go, be the woman that lets the man be the man, if she is with a man who is respectful to her, a man who has proven to be reliable, a man she can trust. This is what brings balance in any relationship.
If submission in the walking-all-over-a-woman sense is what Black men look for in White women, then they got "the grass is more submissive on the other side" part all bad. A man cannot speak to or treat a woman without kindness and respect and expect a kind response and treatment from of her. She might let it go a few times… just a few times … but not forever. You cannot give a woman sh** then expect rose petals to fall out of her a**.
If you ask me, I don't think White women are submissive in the weak sense of the word. I think the Black men who are in relationships with White women – relationships that have worked - treat these women with kindness and respect… and not as trash. And we have seen what happens to those that don't: Their a**es get so sued and kicked to streets where they belong sooo fast... (I'll let you fill out the rest.)
What happiness can one possibly get from a relationship where the woman is like your slave?
68 responses to "Is female submission a requirement for black men to be happy in relationships?"
Leave a reply
You must be logged in to post a comment.