International Day of Families - Celebrating the Unexpected Perfection of Mixed Families
Posted by James, 06 May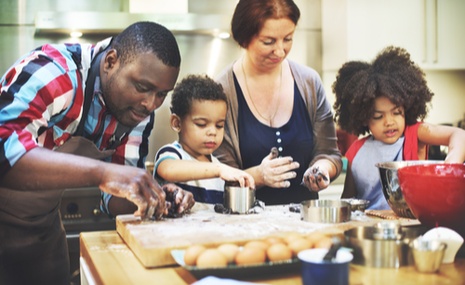 "What will your children look like"? That used to be the concern of most families whenever one of them brought home someone from a different race. Well, all that is changing. Dating differently is changing the face of love. If you ask me, it is all pure perfection! What is more beautiful than families from different cultures, races, and traditions building a future together?
With international day of families just around the corner, May 15, let us celebrate the unique perfection of interracial families and mixed-race individuals. This day is meant to "raise awareness of the significance of families and the different aspects that are negatively affecting this unit". And in the case of an interracial family, issues of racial prejudice and identity pop right up.
Find your soulmate on InterracialDatingCentral










The thing is we cannot downplay the power of a strengthened family unit within the larger society. Such different romantic matches have made and continue to make an incredible difference in the world. And one of the most positive things that have come with interracial dating is the fact that people are learning to judge each other based on character and what is in their soul. This openness also trickles down to the interracial family unit.
It is through family that children are taught how to interact and integrate with other members of society. It is through mixed families that children learn acceptance and respect for all races.
As we celebrate this year, we should also celebrate the international aspect of interracial families. Here are some of the ways you and your family can celebrate this day:
Spend time with your family and let them learn more about their diverse heritage and their family tree.

Teach them how to appreciate their uniqueness and the different ways they identify in. The thing is they will grow better when they hold the truths about their different identities together than when they try to compartmentalize them.

Much as mixed kids might be marginalized in some ways these different identities can have protective factors. Show them how the benefits of belonging from different worlds. So on this day, teach your mixed children to appreciate their unique perfection.

Ask your family members to share any issues they might be facing and make it a safe space to speak their mind, especially when it comes to issues of being bullied in school.

Much as they are mixed race, let them know that there are many ways to see their different sides and teach them to strive to find strength in themselves whenever confronted with issues of identity.

Establish any support channels the family can rely in. Identify people you as a family can surround yourself with – people who will love and support you. Come together as a family and discuss and formulate solutions together.

Teach your children to NEVER apologize for who they are. Let them know that they should never let anyone make them feel less than just because society has branded them as different. Let them be proud of the fact that they are perfection
Most of all, be grateful for the ways that being an interracial family makes you uniquely capable of looking at issues of race in an open-minded way.

Seeing as we are all stuck at home, use this special day to create lasting memories. Teach them how to make your unique different cuisines. Get as creative and as goofy as you possibly can be by using props and all to make you remember the day you celebrated International Day of Families stuck at home.
As we celebrate this day, never forget where you came from… Never forget your family. If you are away from them, reach out to them through social channels or video calls. Alternatively, reach out to friends who are stuck alone at home. Create your own family that you can always turn to, based on trust and love.
1 responses to "International Day of Families - Celebrating the Unexpected Perfection of Mixed Families"
Leave a reply
You must be logged in to post a comment.