Instant Attraction
Posted by Leticia, 27 Feb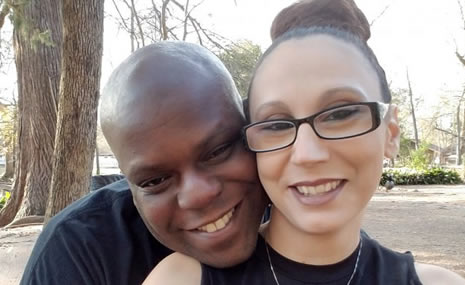 Jennifer elected to use the handle "MizzJLynn76" on our site, while Jason chose "CaliJayLuv." He didn't go out enough to meet anyone in the real world, so he thought it was time he let technology make the assist. We were the first site he signed up with. The same goes for Jennifer, actually. "I wasn't having any luck finding anyone the conventional way," she confides. Both singles say their level of confidence could be best described as "not much."
Maybe they should have been more optimistic! One day into Jennifer's membership, a message from Jason popped up in her inbox. Her pictures are what caught his eye. She perused his profile right back, and liked it. "His answers to his questions, what he was looking for" appealed to Jennifer.
Find your soulmate on InterracialDatingCentral










They started chatting and really hit it off. "He seemed interesting," says Jennifer. "After we kept learning more about each other," she was ready to meet in person. So was he!
"We met at a restaurant/bar," remembers Jennifer. "Also went out to eat and chilled at a wine bar/lounge." Jason's first thought when meeting Jennifer in person was "She's beautiful!" His future bae remembers thinking, "Wow, he's tall and handsome!" The sparks were flying, right out of the gate.
It surprised Jennifer "how comfortable we were with each other, right away." After that, she says she was "110% sure" they should see each other again. Jason tells us he was "positive" and had "no doubt" that this romance was worth pursuing. Both of them say they fit each other's type to a T.
So how does it feel to have found someone they vibe with? "It feels amazing," enthuses Jennifer. "I'm finally happy," says Jason.
Their words of advice for people without a partner are simple: use the site. "Just do it!" Jennifer tells us. Jason nods. "Do it! You never know who's out there waiting to be found."
And if takes longer than one day, that's okay.
8 responses to "Instant Attraction"
Leave a reply
You must be logged in to post a comment.