How to stay productive and entertained at home during self isolation
Posted by James, 02 Apr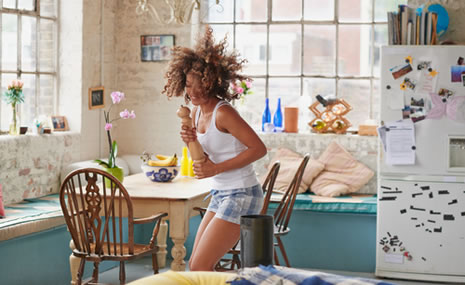 No one said that safe means staying bored. You don't have to be bored when you are stuck at home. Just because you are striving to stay healthy doesn't mean that now your life has to come to a screeching halt!!
This is when I came to realize that decluttering  isn't something you can rely on to keep you busy during this period of self isolation.  It only takes at most 2 days if you are serious  about it. Then what? Sitting in front of the telly binge snacking all day!!!
Find your soulmate on InterracialDatingCentral










There is a lot to be explored for free. Here are some fun ideas that will prevent you from catching 'self-isolation' fever...
Connect with others
This is not the time to lose touch with friends and family. Connect and bond with them using Skype, facetime and other social media avenues.  Make it fun by sharing your home isolation  experiences by taking photos or videos of your surroundings.
Dance challenge
Dance dyslexic? Worry no more. This is the time to shake that body like you just don't care. Learn those moves that have been  making you look like you have two left feet.
A YouTube dance tutorial is all you need. You can pause and master these skills at your own pace. Dance like no one is watching  coz, hey, no one is watching.
There are also virtual dance-offs that you could join on social media. You  could also take a video of yourself doing your dance moves and challenge others by tagging them o social media to take the dance challenge and upload theirs too or challenge your WhatsApp group members to do the same.
Get your fitness on
No gym is required to stay fit. You can do this by simply downloading a fitness App which will guide you on how to do things like lunges, pushups, squats. All these don't require any equipment. You can also workout with YouTube.
If you need weights, improvise by using things like canned tins to replace dumbbells. A friend of mine carried her son on her shoulders while doing squats.
Make it fun by sharing your fitness improvisation videos with friends and family and have a laugh at the silly ones...
Attend livestream concerts and comedy gigs
The thing is, even musicians and music bands are also self isolating. And most of them are keeping their fans eentertained by doing livestream  concerts. Global Citizen and the World Health Organisation have the #TogetherAtHome concert series which invites fans to attend intimate shows with their favourite artists. from the comfort of their homes. Featured are Chris Martin singing Coldplay songs, live sessions with Neil Young...
You could also catch your favourite comedians' latest gigs. Now, more than ever, people are in need of a good laugh.
Learn a thing or two
That degree you never had enough time to complete, now is the time. Consider a Massive Open Online Course (MOOC) in case you are pressed for cash. These are free online courses offered by educational institutions. No entry requirements! No fees! (Though some may charge when  you decide to get an official certificate.) All you need is just you, your device and your internet connection.
You could also upgrade your professional studies online like leadership courses, data science, software development or other computer applicat8 and short courses. There are those that offer month free trial.
Join a YouTube tutorial
Whatever skills you are interested in developing, a free YouTube tutorial is all you need. Learn to sing, play an instrument, building something from scratch, styling a home, interior design, sewing, fashion design, &and much more... These days you can learn just about anything on YouTube.
Attend Virtual Tours
The limit is endless.  You can feast your eyes on intriguing collections of artwork, jeweller and history online. Book virtual tours and excursions. Art lovers can have online access to art galleries and museums and see memorable paintings.
Nature lovers can also capture things online exhibitions featuring things like 'How climate change is affecting animals'. You can also watch animals on livestream cameras set up around the grounds of zoos.
Other productive things to do at home are...
Learning a language using language apps like Duolingo, Busuu

Writing a book or blog

Listening to podcasts or creating  your own using software like Garage band

Doing some backyard or balcony gardening

Sprucing up the backyard by painting the fence or trimming the hedges
Remember there are so many ways to stay sane during the lock in. How are you doing it?
1 responses to "How to stay productive and entertained at home during self isolation"
Leave a reply
You must be logged in to post a comment.