How to buy a diamond without getting ripped off
Posted by Jordan, 18 May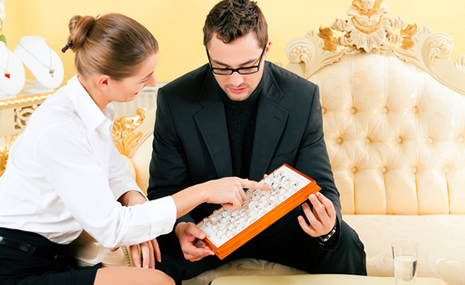 You can save a lot of money and still buy a great diamond. "Nobody wants to spend more for less." -Mike Fried
The Cheat Sheet:
Your perfect partner could be online right now...
What are you looking for?
How diamond web sites are shifting the industry like Zappos did with shoes.

Are diamonds a dime a dozen?

The 4 Cs: which of the four are most important?

What does the term "eye clean" mean?

The top two certification companies you can trust.

And so much more...
When you're shopping for an engagement ring you might think you're getting a great deal from a reputable buyer but how do you really know you aren't being taken for a ride? Listen to today's guest and you'll know for sure.
Mike Fried has been in the diamond industry for nearly 15 years. He and his business partner run a web site that helps people buy diamonds without being ripped off. Today on the 402nd episode of The Art of Charm we talk about which of the 4 Cs are most important, whether or not you should really spend 3 months' salary on a ring and what certification companies you can trust, and which you can't.
More About This Show
When Mike Fried first got into the diamond industry he was working on the wholesale side. The company he worked for helped jewelers maximize profitable - in other words they helped jewelers make the most money on any diamond ring sale.
After 8 years he was tired of that end of the business and left. His now-business partner Ari came to him with an idea: why not create an online spot to help people buy the best diamond for the best price? Together they created Diamonds.pro. The concept is simple: they help you find the best diamond for your needs and then recommend several web sites where you can buy it for your budget.
They earn a commission from the web sites, but that commission is paid by the sites and not an extra mark-up for you down the road. Their site provides education so you know what to look for and how to get the most value for what you're spending.
On today's show Mike debunks many of the myths of the diamond industry like the 3 months' salary myth, the myth that diamonds are somehow more precious than other stones and that diamonds are actually not an investment; they are simply a commodity you're paying for, not an investment for the future.
If you are shopping for rings you've probably heard of the 4 Cs: cut, color, clarity and carats. Mike says you can't get a "top quality" diamond that excels in all four areas.
Instead you should focus on cut and carats. Get the best cut at the best size you can afford. How well cut the diamond is will be reflected in its brilliance and shine; and size definitely matters! People will notice how it shines and how big it is.
Certification is also another tricky area. Mike recommends only relying on certification from GIA and AGS, those two are the gold standard of the diamond industry and you can count on their consistency and reliability. When they rate a diamond you can be sure that's what you're getting.
He also says IGI and HRD are a step below, they're not as consistent. But avoid EGL, many jewelers are facing lawsuits because they sold poor quality diamonds rated highly by EGL.
Mike also has recommendations on how to set your budget, why surprising your girl with a ring isn't the best idea and the truth about the cartel behind the diamond industry. Check it out on today's episode of The Art of Charm.
Jordan Harbinger is a Wall Street lawyer turned Social Dynamics expert and coach. For 11 years, he hosted The Art of Charm Podcast - regularly in the iTunes top 50 and downloaded over four million times a month. Now Jordan interviews the world's top performers - from legendary musicians to intelligence operatives, iconoclastic writers to visionary change-makers at The Jordan Harbinger Show, consistently holding in the iTunes top 100 after just a few weeks. You can also interact with Jordan on Facebook or Instagram.
Responses to "How to buy a diamond without getting ripped off"
Be the first to leave a comment
You must be logged in to post a comment.