How Can You Tell When a Rainbeau is Interested, or Just Being Polite?
Posted by Christelyn, 07 May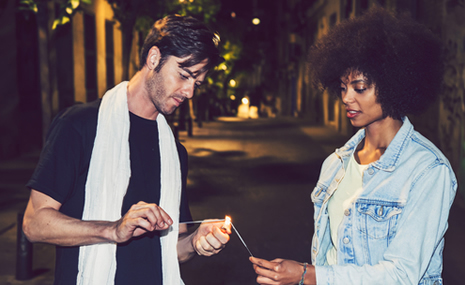 This is a question I get a lot from women...black women especially. As a black woman myself, I suspect that much of the confusion about whether a non-black man is interested is because oftentimes, the cultural cues, social norms, and body language can often be different. What you might think is a benign conversation a cute guy sparked with you might just be his attempt to be polite and pass the time. But...is it? Here's a rule of thumb: if a man isn't trying to sell you something, or qualifies for AARP, chances are if he's talking to you he finds you attractive, or at least intriguing.
Seem to simple to believe? Take a look for yourself...
Your perfect partner could be online right now...
What are you looking for?
Now that you know that the guy standing behind you in Starbucks who asked you for your recommendation on the pastries was probably just looking for an excuse to talk to you, what now? Well that depends. Are you interested? Sometimes it takes just a little encouragement on your part to help that guy seal the deal and ask for your number. Next time something like that happens, don't be so quick to end the exchange...help him out by picking the conversation where he left off.
Christelyn Karazin is the co-author of Swirling: How to Date, Mate and Relate, Mixing Race, Culture and Creed. She's also the co-host of "Swirlr" the first multiracial, multicultural dating show, and publishes the blog, Beyond Black & White.
4 responses to "How Can You Tell When a Rainbeau is Interested, or Just Being Polite?"
Leave a reply
You must be logged in to post a comment.