Hot playboy model on dating Asian Men exclusively
Posted by Ando, 07 Jul 17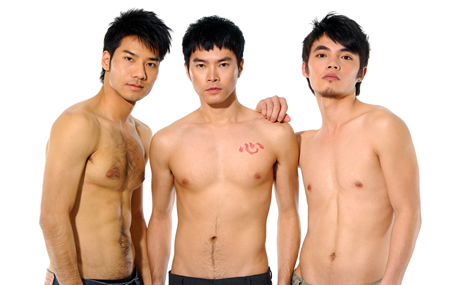 Playboy playmate testimony on dating Asian men
How often do you hear a hot woman dating Asian men exclusively? How often do you hear a hot playboy playmate declaring her love for Asian men? And how often do you hear masculine and hot in the same sentence with Asian men? I am sure not so often!
The thing is, the media always portrays Asian men as not attractive. They say they are nerds or martial artists. Well, not to white model Holly Wolf Playboy boy playmate. She manages to get good looking Asian men all the time. And there are few women who say "I like Asian guys exclusively".
Your perfect partner could be online right now...
What are you looking for?
Holly Wolf is one woman defying this idea. And believe it or not, she is hot AF. This hottie has been on YouTube declaring her Asian dating. The thing is, she didn't start to date Asian men as a teenager. In her testimony, she says that her first boyfriend was a white blue-eyed blonde guy.
On the video, dating the blue-eyed blonde men was all because that was what was available. She was because she grew up in an all-white suburb not far from Toronto. And apparently, the first time she saw a black person was when she was 15. Unbelievable, right?
In an interview on Nextshark (https://nextshark.com/holly-wolf-playboy-model-interview/), Holly says:
"I dated the blonde-haired, blue-eyed, white super jocks in school growing up. My first boyfriend was your typical blonde-haired, blue-eyed rugby player. Now that I think about it, it's kind of like, ugh, terrible. I was just like, 'Ew, my high school self. Gross.'"
Holly's love for Asian men dating began in college. She was intrigued by the Asian culture when taking a class about the Japanese culture. The lack of diversity is what built her curiosity about other cultures. She got to know things about the Korean pop culture and history, which she embraced.
TV shows like Big Bang and 2NE1 blue her away. And after college, she became a shite woman dating white men exclusively.
"I went to school for dance and musical theater. I love dancers. I've always had such an affection towards dancers and artistic types. Seeing music videos where the dancing was just amazing and out of control, I think that was so great. I continued to watch stuff like Big Bang. Then I dated a few Asian dancer friends of mine, and then it kind of just all went from there. I solely find [Asians] just much more attractive. It was just a weird, slow switch."
When approached by a non-Asian male, she tells them bluntly: "Look, you're not my type". And guess what? They raise the tiny penis stereotype. And all this, she gets from white men when she says she loves Asian men.
What about the tiny penis fiasco?
"The whole small penis thing is absolutely insane because anyone of any race can have any part of their body that might be bigger or smaller.
The whole Asians aren't good looking thing is just such bullshit…. This person isn't good looking. What are you talking about? I'm so confused.'"
Holly talks about how Asian men find it hard to approach a white woman because of all these stereotypes surrounding them. She adds this about White woman dating Asian man:
"For girls, I hear a lot of, 'Oh, wow, it's so interesting that you date Asian boys.' I'm like, 'Why is it interesting? They're still a person. I'm not an alien. So what if they've got a different facial structure and they come from a different part of the world?'"
It's quite amazing for a white woman dating Asian men to come out clean like that. On the video, Holly addresses stereotypes surrounding Asian Men. And this makes her very unique.
In the video, Holly explains why she finds Asian men hot. They say once you go black, you never go back Well, Holly is one woman who has proven that once you go Asian, you never go back.
Today, it's not hard to find an Asian male model. In fact, there are several who are underwear models. Times are changing and there are more women of other races who say "I love Asian guys". And you should visit some of the Instagram and Facebook pages. Believe you me, you will love what to see. This is in a bid to debunk the stereotype that Asian men aren't hot.
Today, there are sites catering to White Girls Asian guys dating. People have begun appreciating the beauty and masculinity of Asian men. And Holly Wolf is one of them.
We have Asian Playboy. And Holly has been featured in one of them – Playboy Philippines. And you can follow an Asian playmate on it. Dating Asian men is the new black. Our name is Temptasian for a reason... Temptation is real!
Her advice on Asian men dating: CONFIDENCE and HAVING FUN!!!
Responses to "Hot playboy model on dating Asian Men exclusively"
Be the first to leave a comment
You must be logged in to post a comment.