His Tattoo Freaked Her Out
Posted by Leticia, 27 Nov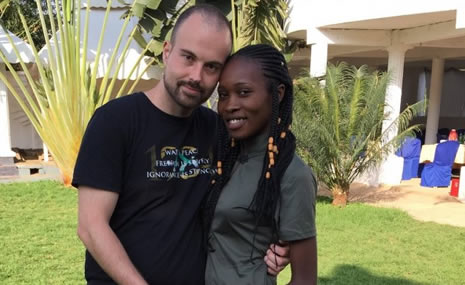 This is an international tale of love found online. Neither half of this happy couple claim English as their first language, but they still do quite well in telling their story...
"Going out the traditional way wasn't my thing, and I was busy with work and school," begins Hannah. "So Internet dating was easier; you can do it in your own time and the filters save a lot of time. However, I always wanted to date outside my ethnicity."
Find your soulmate on InterracialDatingCentral










Was she a first-timer? "Yeah, this was my first experience with online dating," Hannah confirms. Erik, however, had tried other options. "I used other apps but didn't find them satisfactory," he explains. "I was interested in dating interracially."
Nonetheless, he felt like he had a good chance to succeed. "I was open-minded," recalls Erik. "Nothing ventured, nothing gained!"
Hannah was even more certain her investment in love would reap big dividends. "I was very confident that my soulmate was out there waiting for me, no matter how long it would take," she declares. Her faith was unshakeable.
Three weeks into his membership, Erik noticed Hannah. "Wow she's cute!" he remembers thinking. She'd been with us much, much, much longer than he had — four years, in fact. "I instant messaged her, seeing as I was a premium member and she was a standard member," explains Erik. "After that, we hit it off."
There was a little hiccup, however. "He asked for my Facebook I.D., and I told him that I was not on Facebook," says Hannah. "What was embarrassing was that he got my username and sent me a friend request. After using the site's messenger, we switched to WhatsApp."
After being so patient in her search for the right guy, what was eye-catching about Erik, for Hannah? "His profile was superb," she exclaims. "He was straightforward in what he wanted and it was everything I wanted to read."
However, Hannah did find one detail of his appearance to be off-putting… "He was handsome, but the tattoo made me freak out," she confesses with a laugh. Erik had no such reservations. "She looked beautiful in her profile pictures," he says.
Before long it felt like time to take the next step. "We talked a lot, and felt the connection," says Erik. Hannah nods. "We were serious about each other and ready for everything."
Of course, this being a love-beyond-borders kind of a deal, that meant plane tickets needed to be procured. "He came to see me in Kenya," reports Hannah. "And he stayed for two months!"
Erik felt like the move was necessary. "To be able to meet her [was important]," he remembers. "So I went to see her in her home country, despite the challenges — I am still studying and working a tough job!"
Meeting in person was everything Hannah hoped it would be. "He is handsome, better than in his pictures," she notes. "I was melting to hug him — couldn't wait for that moment!"
It surprised Erik "how easily the mood from the phone calls was transferred to face-to-face communication." Hannah was certain their relationship would continue to grow. "We are a match," she assures us. "And that made me sure we'd meet again."
Erik was pretty sure, too! "Pretty sure, seeing as I felt that I wanted to grow old with her," he laughs. "She is really caring, hardworking and kind-hearted. She's everything I want and need."
This isn't a fairy tale, of course, so real life did intrude at times. "We had some arguments we had to overcome," admits Hannah. "But we came out stronger!" Erik acknowledges this as well. "We had some bumps in the road, arguments that we had, but after them, we became even more in love," he says.
When asked what she likes most about Erik, Hannah's list gets long quickly. "He is really a gentleman, a rare breed," she says. "He is also a jovial person, and so caring. He's got everything a woman would want. He has what it takes to be my soulmate!"
Building this relationship has made a major impact on Hannah's life. "I am much happier than before," she says. "And it made me work hard for the future."
"I became a lot happier as well," agrees her man. "And I feel that I can handle the hardships of life better now, seeing as we have each other!"
Here are Hannah's words of wisdom for singles still seeking a love like this one. "Be patient. No matter how long it takes, your time will come. It took me four years here to meet my soulmate! Don't lose hope. Your soulmate is out there waiting for you — when the right time comes, you'll have your own testimony."
Erik says, "Keep looking, don't give up. The best things come with time. And keep an open mind."
Whether it takes you four years or (hopefully) four weeks, we hope you meet someone special on our site, as they did.
28 responses to "His Tattoo Freaked Her Out"
Leave a reply
You must be logged in to post a comment.