His Life Did an About-Face
Posted by Leticia, 27 Mar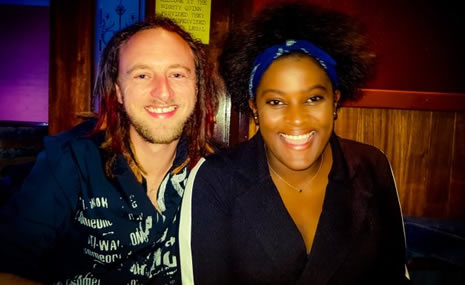 "My life has completely done a 180 [since meeting Diana]," says Graham. But before meeting and marrying, they were just two people looking for love in all the wrong places.
In order to "meet new people," Diana decided to post a dating profile on our site. "I had used other sites, with little success," she reports. Graham was in the same boat, essentially. Neither of them had "high expectations" for us but despite their lack of confidence in the process, they stuck it out. In Diana's case she was a member for a year before making this breakthrough and for Graham, it took "a few months" to meet Diana.
Find your soulmate on InterracialDatingCentral










Here's how it happened… One day, Graham discovered Diana's profile. Despite "not much" similarity to what he thought was his type, there was something about Diana that intrigued him. For one thing, her photo definitely grabbed his interest – Graham found Diana very attractive – so he elected to reach out to her.
When she got a Flirt from him, Diana checked out Graham's profile. The way he wrote his bio appealed to her and, after "a lot of chatting," they decided to meet in real life…
"We went to the movies," says Diana. "He was shy!" Laughing, Graham disputes that. "She was more nervous than I was!" Laying eyes on her for the first time, he was struck by "how pretty she was in real life." Diana was impressed by a romantic gesture he made that night. "He got me roses!"
That said, there was actually some doubt about Date No. 2 ever coming to pass… "I wasn't sure," admits Diana. Graham wasn't either. "I was actually thinking she wasn't interested!"
But go out again they did, and despite "plenty" of obstacles, their romance turned into a full-blown relationship. What's more, after some "letting go of the past," Graham realized Diana was his match in life. "She is all I've hoped for," he says to sum it up.
With that in mind, Graham made preparations to take the next step. "We were at a family function, and I proposed to her," he tells us. Diana knew instinctively what her answer would be. "I feel complete," she says of life with her hubby.
Here are Diana's tips for dating online. "Give it a chance! You never know who's out there waiting for you." Graham wants our members to know that patience and an open mind are key. "Don't give up, and don't paint everyone with the same brush; there are genuine people out there!"
As a couple, Diana and Graham are a genuine hit.
3 responses to "His Life Did an About-Face"
Leave a reply
You must be logged in to post a comment.