His Eyes Hypnotized Her
Posted by Leticia, 21 Apr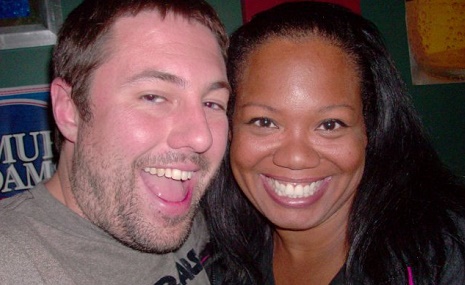 What do you get when you mix "Matt220" and "Nutella618"? A great couple! Victoria and Matt go together like chocolate and peanut butter. But not so long ago, Matt didn't give himself a great chance of success. "To be honest, I wasn't convinced that it would work," he says of online dating. "This site was my first experience with an interracial dating site. I must admit I was unsure if much would come of it, but I wanted to test the waters."
Internet personals were recommended to Victoria by someone whose opinion she trusted. "My friend found love online, so I decided to try it," she tells us. Before signing up with our service, Victoria tried a large, mainstream dating site but reports that she was "unable to find a match" there.
Find your soulmate on InterracialDatingCentral










Still, unlike Matt his lady love was convinced she could meet a someone of substance here. Victoria says, "I was hopeful because online dating allows you to be yourself from the start, truly have open, honest conversation, and really get to know each other. It removes the pressure of physical intimacy occurring too soon, and you don't have to put up any fronts or appearances. Meeting people in public… Sometimes it's like a job interview."
Humorously enough, Matt the sceptic found success sooner than the vast majority of our members. It took him ONE NIGHT to join our site and connect with Victoria. "I joined," he recalls, "And then the next morning Victoria had messaged me!"
She'd only been here two months by then. Well, what caught her eye? For Victoria, Matt was a "pretty baby," and so she told him so! To expand on that, Victoria remembers thinking that "he had a kind face, and there was something gentle and unassuming about the way he worded his profile."
When Matt returned the favor, he found her profile delightful. "She was very attractive, and had a funny profile," he remarks. The only drawback to this potential pairing? "The distance," Victoria sighs. "I lived in Texas. He lived in Connecticut."
Not the easiest trip to make. Still, it wasn't long before this tandem in the making materialized. As Victoria remembers it, "After hours of talking on the phone, every day for two weeks straight, we knew we had to meet and confirm what our hearts were telling us!"
"We knew it was time because everything had clicked immediately," affirms Matt. "We both had been through heartache, and we realized that we were now able to recognize the real thing because of it."
With that in mind, travel arrangements were made with a quickness. "Matt flew from Connecticut to Houston," says Victoria. Matt nods. "Victoria picked me up at the Houston airport." His presence had a powerful effect on her. "His eyes were like a kaleidoscope to me," giggles Victoria. "I was so shy, like a schoolgirl. He was more special than I had dreamed!"
"Victoria was even prettier in person, and it was funny how super-nervous she was," Matt reminisces. "It was an amazing feeling to finally meet her. I kissed her when she picked me up. She freaked out with shyness!"
Victoria can still hardly believe he did that. "He kissed me! I wasn't expecting it. I melted!"
With their first kiss already behind them, the duo had a long drive ahead. "We were starving on the drive back to San Antonio, so we stopped at a Whataburger in Sealy, Texas," adds Victoria. While almost everyone appreciates a well-cooked burger (whether it's beef, turkey or tofu), this wasn't the most romantic of settings for their first meal together. "We were too hungry to make it to a fancy restaurant," laughs Matt. "She could barely look at me. We were both so nervous!"
Neither person felt any diminishment of their attraction. "We knew before we met in person that this was love," Victoria tells us. Still, Matt says that he was surprised by "how easy and natural it felt to be near her."
Their relationship is going like gangbusters, so far. Matt is endlessly impressed by Victoria's generous spirit. "She is very selfless, always giving so much of herself, with no complaints." She really appreciates "his innocent wonder at the world."
We always ask couples if their partner is a perfect match for what they considered was their "type" before meeting. "He is my type, 100%," is Victoria' decisive answer. "That's why I messaged him." Matt informs us that he "had a physical attraction to black women, but had never dated them. And her personality was exactly what I want in a partner. Since finding my soul mate, I am a happier, wiser, kinder, healthier and overall better me."
For all those singles out there, Victoria offers these online dating tips. "Be patient, and take the time to talk to each other," she recommends. "Have an innocent, pure conversation and don't be sexual too soon. Be open, honest and sincere about all aspects of yourself, and your true love will reveal themselves. Just believe in it. Visualize it."
Matt wants people to trust the process. "I did," he says. "And even though she was halfway across the country in Texas, I have an amazing lady and beautiful son to show for it."
43 responses to "His Eyes Hypnotized Her"
Leave a reply
You must be logged in to post a comment.