He Fell for Her Over Fro-Yo
Posted by Leticia, 25 Sep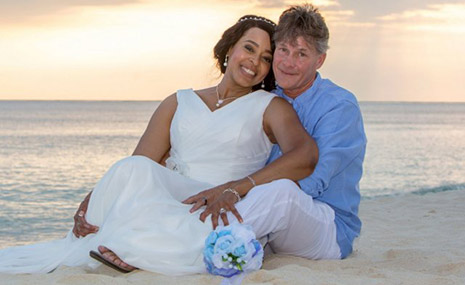 When Belinda posted her profile on our site, she never thought she'd meet a guy like Michael. We always want to know why singles turn to the Internet after hoping for a true-love miracle to occur in their day-to-day life. Belinda says that online dating's convenience was the big draw. "On a whim, I filled out the app to see what would happen," she tells us. "After years of putting my career first, I was ready to meet someone to share similar likes and interests, all from the comfort of my computer screen!"
Michael was new to the game. "I had tried online dating once before, briefly," he reports. "After years of work, work, work I was ready to find someone to share my time and life with."
Find your soulmate on InterracialDatingCentral










Interestingly, Belinda says she joined our site to socialize, not to find a romantic partner. Asked if she was confident that she'd find love online, she has a decisive answer. "Ummm. No! I wasn't looking for love. On or off-site." Maybe that's why she chose the friendly-sounding username "Bessfrin."
Michael wasn't brimming with exuberance, either. He says he was "not very" confident he'd meet his special someone but adds that "if it happened, I was open." After choosing the handle "Kasbah," he was ready to rock.
Still, in under 90 days, these two found each other. "Michael sent me a message," Belinda remembers about their first interaction. Michael attributes his attraction to her standout profile. "I thought her photos were beautiful," he declares. "And her introduction caught my attention!"
When Michael's email popped up in Belinda's mailbox, she gave his profile a more-than-cursory inspection. "We both worked 'overtime,' so that spoke to his character," she observes. "I also liked his clever response to my intro and photos." Michael was encouraged, as well. "We exchanged numbers and talked frequently," he says. "The more we talked, the more I felt a connection."
The only problem was that these two weren't exactly "local." Geography conspired against them. "He lived in a different state, but he was willing to drive to meet me," Belinda says. "So I gave in."
With all that being the case, this couple in the making planned their first date. Michael was more than willing to figure something out. "I drove 8.5 hours to meet her," he laughs. Belinda wanted to meet somewhere. "We met at a restaurant to break the ice," she recalls, adding that "aww, he's cute," was her first thought upon seeing Michael in person.
Michael was a little blown away by Belinda, telling us, "She's more beautiful in person than in her photos! We had lunch and found out that we had more in common than we even knew." Belinda wraps up the story. "Then I showed him around the city," she says. "I really had a much better time than I expected to. I couldn't wait to see him the next morning!"
What's this? They saw each other again the very next day? Michael says the most surprising thing about their first meeting was "that it lasted the entire weekend. We had a two-day date!"
The two-day date went pretty well. Belinda was "100% sure" she'd see him again, relaying that, "he told me it was only 8.5 hours away – or two hours by plane!" Michael was "positive" this was not the end of their story and says he couldn't wait to be reunited.
Asked if there's anything they appreciate about their partner that wasn't apparent in the profile, Belinda answers "how unbelievably patient he is" and Michael's response is "how unbelievably sexy she is!"
Now, remember, Belinda wasn't planning to begin a relationship at all, let alone one that required travel. So the distance separating these singles was definitely an impediment to moving ahead with this. "I was not planning a long-distance relationship (on a long-term basis)," she reiterates. So a big clue that what they shared could be special came when Belinda did something she never expected to. The revelation came, says the lady, "when I brought an airline ticket to go visit HIM!"
Michael's moment of truth occurred much earlier, actually. "Sharing a fro-yo (frozen yogurt) on our first date in Missouri" was when he first thought Belinda could be The One, he says.
These realizations culminated in a grand gesture the couple will never forget. "He took me to my favorite park (where I walk regularly), got down on one knee, and proposed at my favorite bench," Belinda tells us, happily reliving the memory. "He chose the ring(s) himself! They are beautiful!"
Finding a love like this has changed their lives, of course. "Life is so much more meaningful and full," observes Belinda. "I'm married!" exclaims Michael. It probably doesn't feel real yet.
Here are Belinda's words of encouragement for everyone seeking to tell their own version of this story. "Trust God. He will find the right spouse for you when it is the right time (usually unexpected). Don't go in 'looking' to get married!"
1 responses to "He Fell for Her Over Fro-Yo"
Leave a reply
You must be logged in to post a comment.