He Brought a Ring to Their Second Date
Posted by Leticia, 27 Aug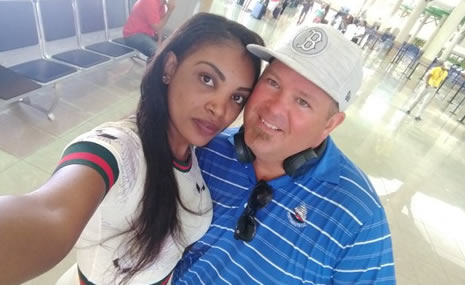 Our members "Black_Choco" (sounds like a dessert?) and "Jay-T1122" (sounds like the Terminator's newest model?) were so certain, after their first date, that this would work out that he immediately made plans to see her again. "I flew back in six weeks with a ring!" exclaims James, the man behind the T1122 moniker.
You see, she (real name: Marie) lived in the Dominican Republic, so a plane was the necessary mode of transportation. Marie knew from their video chats that this relationship could be special. James says he knew that "almost instantly – within a month, for sure."
Find your soulmate on InterracialDatingCentral










When he returned with that ring, his plan to propose was properly romantic. As Marie tells it, "He rented a beachfront condo and proposed under the full moon, on the patio in front of the beach."
Before all that, of course, they were singles with snazzy usernames on our site. Both were new to the online dating game. As James puts it, he was "looking for my Bonnie" and Marie says she was "looking for my Clyde," a dual reference to the famous partners in crime. Both felt "unsure" that Internet personals could pull off this caper, but, sure enough, they landed their life-companion a few months after posting profiles.
"I reached out to her with an extensive IM," remembers James. "After reading her profile it was clear she was the one for me!" Marie was very impressed by that first message, so they soon graduated to the aforementioned video chat. From there this romance was off to the races! James was shocked by "how well we hit it off." For her part, Marie was blown away by "how sweet he was to me." She continues, "he flew to the Dominican and we stayed together for two weeks." James adds, "we rented an Airbnb and spent a lot of time together."
During this dreamy interlude Marie was surprised by "how relaxed it was," and James says he couldn't believe "how well we hit it off, with no level of discomfort at all. She was everything I had hoped for, and more." Something her profile hadn't promised him, but that became immediately evident, was "her loyalty and trust." Marie was equally smitten with her guy. "He was perfect!"
Once they reconciled the distance between them, these two made the decision to move forward and get married. And why wouldn't they? The couple says that finding love has changed their lives "completely."
Today, Marie advises singles to "be yourself and have an open mind." James' advice runs along the same lines… "Stay true to yourself, and don't try to be someone you're not."
What Marie and James are now is a couple whose next date will be at the altar.
22 responses to "He Brought a Ring to Their Second Date"
Leave a reply
You must be logged in to post a comment.