Having a baby is a stressful, transformative experience for even the most prepared couples
Posted by Jordan, 19 Jul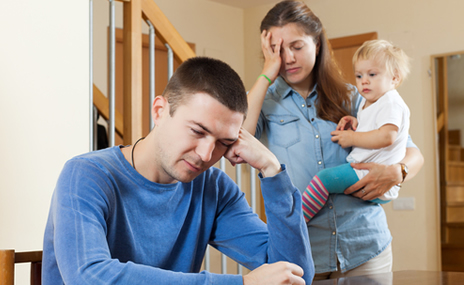 During that [first] three months, you're so tired…you don't even have time to notice there are problems in the relationship." -Marni Kinrys
Your perfect partner could be online right now...
What are you looking for?
The Cheat Sheet:
Why have a baby in the first place? How do you know when you're ready?
Pregnancy brain and mommy brain — why it's real and why it can hurt your relationship.
Why babies and women are not always a match made in Heaven.
How women feel after having a baby — struggles, lower confidence, confused identity.
What can men can do to help women get through this period of time?
And so much more…
More About This Show
When Wing Girl Marni Kinrys and her husband decided to have a baby, she concedes that she wasn't quite ready. Sure, she knew about everything that new parents should be prepared to endure — the sleepless nights, any semblance of a social life being put on the backburner, the loss of "alone" time, etc. But the reality turned out to be even more overwhelming than expected.
As a business owner, it seemed (to her) like she had everything under control at the beginning. Just minutes after delivering, she was already on the phone to check emails and make important calls. She had this.
Over the next three months, Marni noticed that she and her husband had stopped communicating beyond a very perfunctory level. It took a blowout argument to reveal that each had been letting negative feelings about the other build up. There was a sense of mutual neglect that grew from one simple seed: they had stopped exchanging niceties.
While they'd been focusing on the surface needs of raising a child together, they'd forgotten to nurture one another with the psychological and emotional reassurances crucial to every relationship's survival — which became isolating for both of them.
Listen to this episode of The Art of Charm in its entirety for deep advice that Marni has for men and women coping with pregnancy and the baby's first year. She admits that she's still seeking balance, but her experiences have lessons to teach for anyone considering taking their relationship to this level.
If you enjoyed this session with Marni, hit us up with your comments.
Jordan Harbinger is a Wall Street lawyer turned Social Dynamics expert and coach. For 11 years, he hosted The Art of Charm Podcast - regularly in the iTunes top 50 and downloaded over four million times a month. Now Jordan interviews the world's top performers - from legendary musicians to intelligence operatives, iconoclastic writers to visionary change-makers at The Jordan Harbinger Show, consistently holding in the iTunes top 100 after just a few weeks. You can also interact with Jordan on Facebook or Instagram.
Responses to "Having a baby is a stressful, transformative experience for even the most prepared couples"
Be the first to leave a comment
You must be logged in to post a comment.