Eyes Wide Open: Tackling Stares From Outsiders
Posted by Christelyn, 13 Jan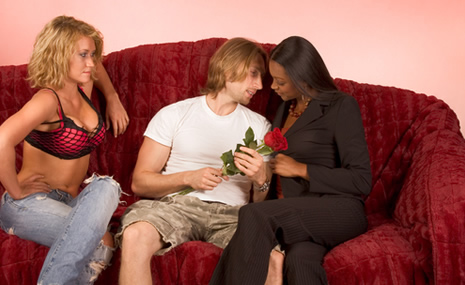 I recently received a note from a white man who lives in the South, asking my advice on what to do about how to manage his discomfort when he's out with his black girlfriend. Here's what it said:
"I saw your video on Interracial Relationships. As a white guy I always been attracted to black woman. My girlfriend it's the first time she ever dated outside her race. She has been telling me and my family about how she has finally meet her soul mate. To me I just need a little encouragement because living in the south we still get looked and talked about our love for each other. What advice can you give to stay positive."
I responded with this video...
Your perfect partner could be online right now...
What are you looking for?
Surprisingly, I got a mixed reaction from people who watched this video--everything from hand-claps and total agreement to accusations of me being unnecessarily cruel and not understanding what it's like dating interracially in the South.
Granted, I was tough. When I read the portion of the note where the writer said his girlfriend believes he is her soulmate. My concern is that this man's trepidation, hesitation, and worry will ultimately hurt this woman; and frankly, being overly concerned about who's looking at you is not a quality conducive to interracial dating, no matter what state, region or country you live.
So what's your take on my advice?
Christelyn Karazin is the co-author of "Swirling: How to Date, Mate and Relate, Mixing Race, Culture and Creed," and operates a popular blog called, Beyond Black & White.
1 responses to "Eyes Wide Open: Tackling Stares From Outsiders"
Leave a reply
You must be logged in to post a comment.