Do you date interracially because your race is less masculine/feminine for you?
Posted by Ando, 13 Dec 12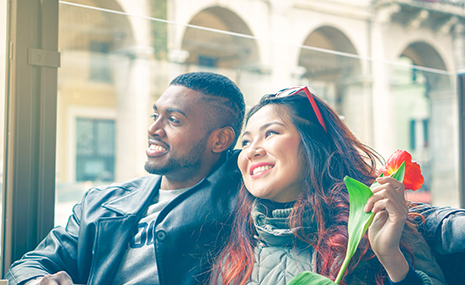 Racial stereotypes continue to affect the Americans in all sectors of life – and dating hasn't been left out. A recent study dubbed "Gendered Race", which examines the connection between race and gender, shows how stereotypes can affect both the personal and professional choices we make in our lives. So what is this "Gendered Race" phenomenon? Does this make bmww wmlw or ambw dating a weird situation?
In the U.S. some races are considered more masculine or more feminine than others. For instance, the Asian ethnic group is perceived as more feminine compared to Whites and Blacks. On the other hand, African Americans are considered as a more masculine group, followed by Whites and then Asians. This is according to a research by Adam Galinsky, the Vikram S. Pandit Professor of Business at Columbia Business School. His research also shows how genderizing race has great consequences for interracial marriage, athletic contribution and the leaders we select. "… we found a substantial overlap between the contents of racial and gender stereotypes", wrote Galinsky in his study.
The research showed the implications this association of race and gender has for heterosexual romantic relationships. Ideally, men are more inclined to date women who portray the feminine ideal while women prefer to date masculine men. In the interracial dating world, Galinsky showed that more men of all races are attracted to Asian women in comparison to black women, with women being more attracted to black men relative to Asian men. All this was dependent on how much a man or woman valued masculinity or femininity. The more a woman valued masculinity, the more likely she found Black men more attractive; the less likely she was attracted to Asian men. The same applied to the case of men, with attraction to femininity driving the gap of attraction to Asian women as opposed to Black women.
Your perfect partner could be online right now...
What are you looking for?
According Galinsky's research, these things happen in real life. Looking at the 2000 US census data, he found a similar pattern among interracial marriages:
"… among black-white marriages, 73 percent had a black husband and a white wife, while among Asian-white marriages, 75 percent had a white husband and an Asian wife. An even more pronounced pattern emerged in Asian-black marriages, in which 86 percent had a black husband and an Asian wife"
In conclusion, Galinsky says: "This research shows that the intersection of race and gender has important real-world consequences. Considering the overlap between racial and gender stereotypes – our gendered race perspective – opens up new frontiers for understanding how stereotypes impact the important decisions that drive our most significant outcomes at work and at home."
Question is: Has the gendered race perspective affected your dating decisions? Is this why you date interracially?
9 responses to "Do you date interracially because your race is less masculine/feminine for you?"
Leave a reply
You must be logged in to post a comment.