Blac Chyna calls out "hypocrisy" of Kardashian family after they ban her daughter Dream from appearing on her show
Posted by Akila, 17 Jun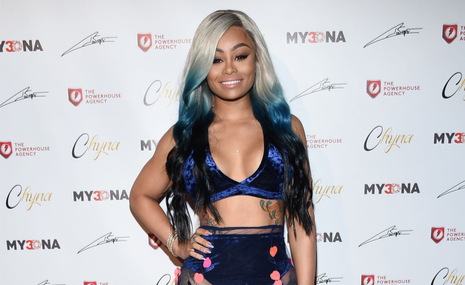 Photo credit: DFree / Shutterstock.com
Co-parenting can't be easy, but it seems like Blac Chyna and Rob Kardashian are now struggling to see eye to eye when it comes to their daughter, Dream.
Your perfect partner could be online right now...
What are you looking for?
And they were doing so well recently…
According to reports, Rob Kardashian's legal team sent Blac Chyna – real name Angela White – a letter which prohibited their daughter from appearing on her new reality TV show, show The Real Blac Chyna…
"My client does not agree that his daughter Dream Kardashian appear on the Series," the court letter read, according to US Weekly.
"Please be advised that the Zeus Network does not have Mr. Kardashian's consent to Dream's participation in or appearance on the Series or in any related marketing or promotional materials.
"Should the Zeus Network proceed with releasing any episodes of the Series or related materials containing Dream's likeness, it will be acting at its own peril and exposing itself to significant liability."
Blac Chyna wasn't happy with the way that her ex went about it – especially because their daughter has appeared on their own show, Keeping Up With The Kardashians…
"As Executive Producer of my show, it is very unfortunate that Rob could not simply have an adult conversation with me 'the mother of his child,' Dream Kardashian, appearing on my show The Real Blac Chyna," she wrote in a lengthy Instagram post.
"First and foremost, I would never allow her 2-year-old daughter to be subjected to 'long hours' on the set.
"Again, had Rob directly contacted me to discuss, he would have learned that as the Executive Producer of my show The Real Blac Chyna, I have the ability to control which scenes are included in the show," she continued.
"However, I would have pointed out to Rob the hypocrisy of his family's insistence that Dream appear on Keeping Up With the Kardashians in the family's desperate attempt to boost the dismal ratings for their stale and contrived show, without my approval, including an entire scene being Dream's birthday party, again without my consent."
"My show is about my life and my kids are a huge part of my life. It's really sad that everything I do to better myself or my family the same people have something to say to stop or hinder it."
Neither Rob Kardashian nor his legal team have publicly responded to her post.
Does she have a good point? Or should Dream Kardashian stay out of the show?
Responses to "Blac Chyna calls out "hypocrisy" of Kardashian family after they ban her daughter Dream from appearing on her show "
Be the first to leave a comment
You must be logged in to post a comment.