Bad Clothes, Good Man
Posted by Leticia, 17 Mar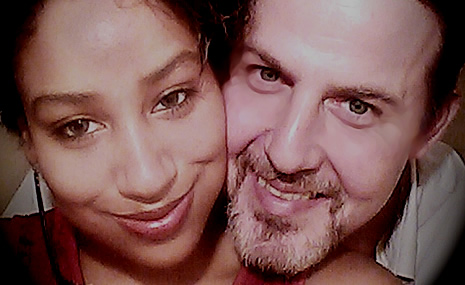 Tiffany and James had always found other races attractive. "I'm most attracted to white men, and I was ready to find love with a man who feels the same way about black women," says Tiffany. "But I wasn't too confident at all that I'd find love online."
James had never really thought about online dating. He did approach the site with an open mind, though. "It was an avenue whereby I could meet attractive and intelligent black women," he concedes. That was enough of an allure for him!
Find your soulmate on InterracialDatingCentral










They had been on the site less than a month when "TexasKing44" reached out to "CosmoLady67." Says Tiffiny, "James took the initiative and reached out by Instant Message and Flirt. I wasn't interested at first, but he was very persistent!" Eventually she succumbed to his charms. "I just finally gave in and decided to give him a call," she laughs. Then we called and texted each other every waking minute of the day, for weeks!"
James smiles when asked what caught his eye, initially. "Her beauty, at first. Then after talking and texting, I knew she was sincere. For some reason I trusted her from the very start."
Tiffiny admits James' profile didn't really grab her. It was their phone call that swayed her. "I just liked his Texas accent and kind words," she says. After three weeks of talking and texting and getting comfortable with each other, they felt ready to take the next step. James asked her to come visit him in Texas. "I was ready to meet her in person," he declares. "I was so excited when she decided to come!"
Tiffiny rode the bus for two days straight. Finally, she arrived in the Lone Star State. When James picked her up at the bus station, his sartorial splendor left something to be desired. "He's dressed like an old man!" she remembers thinking. "But I can't run away now!"
Clothes may make the man, but beyond his questionable fashion choices James did look good to Tiffiny. "I honestly thought he looked better in person than his profile picture," she elaborates. "He looked like the perfect gentleman he still is today."
For his part, James was "enchanted from the very beginning. I was totally captured — mind, body and soul." That night, he made dinner for Tiffiny. She was touched. He went to the trouble of cooking "even though he had a long day at work and then came to get me," she adds. "He was such a sweetheart."
James admits that he wasn't always such a gentleman, in the past. "Here I was with this beautiful and delightful woman, and I wasn't trying to have sex right off the bat like I usually would. I truly wanted to get to know who she was in a respectful way."
Is there anything they appreciate about each other that didn't come across in their dating profiles? Tiffiny nods. "He is very giving!" She sighs happily. "I so love him now."
This came as a surprise to Tiffiny. She's a little embarrassed to admit that James wasn't even close to what she thought she wanted, when she signed up on our site. "But here I come to find out he's everything I needed... and then some!"
It doesn't bother James that Tiffiny felt that way, at first. "She's everything I've wanted in a woman but have never found until now," he says. "She respects herself, is kind hearted, compassionate, God-fearing and witty." He pauses, reflecting on the big picture for a moment. "She's everything I would want in a best friend and lover."
With that in mind, he proposed. Here's how James remembers it. "I asked Tiffiny to marry me because she was the one I wanted to spend my life with, from the very beginning." He grins. "She said yes, of course!"
Love has changed their lives in myriad ways. Tiffiny doesn't hesitate to acknowledge James' effect on her. "He makes me feel better as a person and as a woman," she says.
For James, the impact has been profound. "I feel complete knowing that I have someone to share my life with. The ups and downs and everything in between. Also knowing that I'm not in this world alone now, and being able to give all this love in my heart to another human being. Unconditionally."
Tiffiny is eager to give singles some advice. "Keep an open mind when it comes to love," she reminds us. "You might think someone doesn't meet your standards but if you know what to look for in a person, they may be the best choice you've ever made. Of course you have to be attracted to someone physically, but you also want to connect on all levels — intellectual, spiritual, mental and emotional."
Beauty is only skin-deep, after all! Here are James' final thoughts. "Be persistent," he suggests. "Sometimes we have to open our hearts to find true love, but if you find something you want, go for it!" He looks lovingly at Tiffiny. "Sometimes they might not even know what they want, but you know what type of man you are and what you have to offer. Be confident and truthful in all you say and do, and love will always shine through like the sun at the break of dawn."
35 responses to "Bad Clothes, Good Man"
Leave a reply
You must be logged in to post a comment.