Are You Wearing the Right Stuff on a First Date?
Posted by Jordan, 31 Oct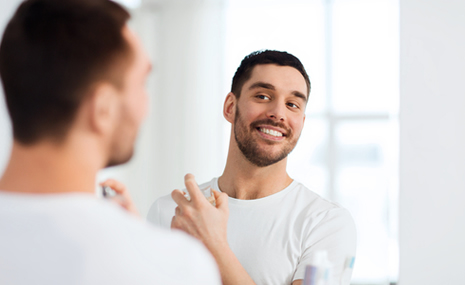 I get asked a lot what men are supposed to wear on a modern first date. It's a lot simpler than you might think, but it's no less important. This is almost like the real first impression that you're going to make. You two have already been talking. Now it's time to really shine the first time the two of you go out together alone. Here's how to make it happen.
What Type of Date Is It?
Your perfect partner could be online right now...
What are you looking for?
When it comes to dates, there are basically three types:
Dress-Up Dates: These are things like a nice dinner, an evening at the theater, an art gallery date or something where you need to look more "adult" than you probably do at your job.

Dress-Down Dates: Think of dates along the lines of a picnic in the park or a walk or even a more casual dinner date. This is what most of your dates are going to be like, especially first dates.

Activity Dates: Rock climbing, hiking and the like. We're not going to address this here because the basic rule is that you just need to be clean and dress for the activity at hand.

Trim and clean your nails.

Always wear clean shoes. This is one of the first things that women notice in a man.

Get your hair cut a week before you go out in the regular style that you always get. This is not the time to try anything new.

Take a shower, put on deodorant and only wear enough cologne so that she can smell it when she leans in very close to you.

General Guidelines

No matter what kind of date that you're going on, it's important that you follow some general guidelines:

How to Dress Up

Dressing up is actually a hell of a lot more simple than you think it is. You don't have to go all out. You're not going to a funeral or a wedding. Instead, you just need to look clean and sharp. How do you do that? Mostly with a light-colored, collared shirt, a dark blazer and khakis. Shoes can be black or brown (we prefer brown) and lace-up or loafers (we prefer lace-ups). Little accessories like a nice wristwatch or a pocket square can really dress things up. Avoid things like neckties and cufflinks. You want to keep things kind of casual, even when it's more of a formal date.

How to Dress Down

Dress down doesn't mean jeans and a t-shirt. It means a collared shirt of some kind -- either a polo shirt or a more casual button up. You can also wear dark jeans or khakis, depending on your preference. Light jeans are always out unless you're headed out to a rock concert or something that's super duper casual. Polo shirts don't get tucked in, but button-up shirts do unless you're wearing jeans, in which case it's your call.

See? Nothing to be afraid of here. Just pay attention to a few small, simple things and you're going to look great and have a great time.

Do you have any first date outfit pointers? Disaster stories? Share them in our comments section.

Jordan Harbinger is a Wall Street lawyer turned Social Dynamics expert and coach. For 11 years, he hosted The Art of Charm Podcast - regularly in the iTunes top 50 and downloaded over four million times a month. Now Jordan interviews the world's top performers - from legendary musicians to intelligence operatives, iconoclastic writers to visionary change-makers at The Jordan Harbinger Show, consistently holding in the iTunes top 100 after just a few weeks. You can also interact with Jordan on Facebook or Instagram.
Responses to "Are You Wearing the Right Stuff on a First Date? "
Be the first to leave a comment
You must be logged in to post a comment.