Advice from a crazy ex-girlfriend
Posted by Jordan, 14 Jul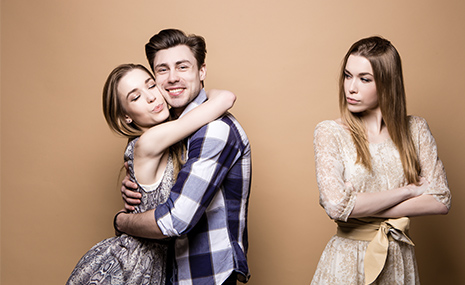 "Imagine two dysfunctional puzzle pieces out in the universe with a magnet…" - Marni Battista
When it comes to repeatedly dating people who aren't good for us, how do our mistakes become patterns, and how can we break these patterns? Some of us can trace a long string of doomed relationships back to how we were treated by a middle school crush. Others follow a template learned from observing how dysfunctional parents interacted with one another. A better future free of whatever shackles us to the past is possible, but it's up to us to make the deliberate choice to change.
Your perfect partner could be online right now...
What are you looking for?
In episode 422 of The Art of Charm, we talk to self-declared "former crazy ex-girlfriend" Marni Battista about how we arrive at a point when we can commit to breaking bad dating patterns — instead of succumbing to the short-term, addiction-like rush we've come to associate with them.
The Cheat Sheet:
If you want to date out of your league, you just have to be 10% better than 90% of the guys out there.

10 things women wish you knew.

How can we stop terrible dating patterns?

Why do we keep dating people who are bad for us?

Screening out the crazies (or screening them in, if that's what you're into).

And so much more…
More About This Show
Dating with Dignity founder Marni Battista is a certified professional dating relationship coach and expert; her advice has appeared in Cosmopolitan Magazine, Men's Fitness, Yahoo! Shine, Glamour, YourTango.com, Huffington Post, CupidsPulse.com, and more.
While Marni does specialize in helping women identify and break bad dating patterns, much of her advice is applicable regardless of gender. In this podcast, we share a little something for everyone. We also touch on Marni's list of 10 things women wish you knew, and Jordan shares a story that's funny because it didn't happen to him.
Please listen and enjoy and don't forget to share your "crazy" relationship stories.
Jordan Harbinger is a Wall Street lawyer turned Social Dynamics expert and coach. For 11 years, he hosted The Art of Charm Podcast - regularly in the iTunes top 50 and downloaded over four million times a month. Now Jordan interviews the world's top performers - from legendary musicians to intelligence operatives, iconoclastic writers to visionary change-makers at The Jordan Harbinger Show, consistently holding in the iTunes top 100 after just a few weeks. You can also interact with Jordan on Facebook or Instagram.
19 responses to "Advice from a crazy ex-girlfriend"
Leave a reply
You must be logged in to post a comment.