80s makeup trends back in style in 2019
Posted by Darci, 25 Jan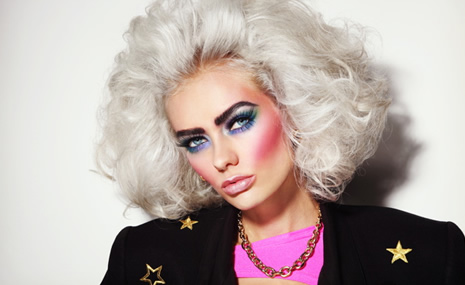 If you are thinking 80s makeup trends are dated, man are you wrong. We are excited to show you how to pull off some of our favorite ones. Check them out...
80s makeup trends back in style in 2019
Find your soulmate on InterracialDatingCentral










The '80s are over — but 80's makeup trends are making a huge comeback! We're going to dive into some of the hottest 80s style makeup that will help you revive the 80s in full force. Think Madonna, Cyndi Lauper, and Whitney Houston. Turn on some 80s tunes while you read this article to really get you in the retro mood!
We spoke with Noelle Marinelli about makeup and grooming — she's the go-to expert when it comes to all things makeup, especially how to do 80s makeup styles yourself. We're going to cover more than just blue eyeshadow and too much hot pink blush. We're also going to talk about 80's hairstyles and makeup today and what's on the forefront for your face and head. I hope you're wearing your high-waisted acid washed jeans for this one.
Instead of thinking of 80's makeup as cheesy or gaudy we feel about it as new-wave, adventurous, and avant-garde. It's hot hot hot! Makeup has progressed into something even more spectacular in 2019 because we've got years of history to look back upon that tie in with the 80's makeup trends that were so popular.
80s makeup trends we are excited about
80s makeup trends aren't just about cleaning your face. But when you are doing makeup, it's essential to start with a clean 'palette'. Use soap and water or cleanser of your choice before you get started. Now you're ready to get some 80's makeup tips that would even make Molly Ringwald jealous with gloss-lipped envy.
According to Marinelli, "80's style makeup is all about bright colors and strong shapes.  My best tip would be to use makeup that is highly pigmented and to contour your cheekbones!" One of the prime examples we can look up to was not a woman. It was David Bowie (rest in peace). Remember the bold makeup he rocked on album covers and videos? This is the direction you'll want to take.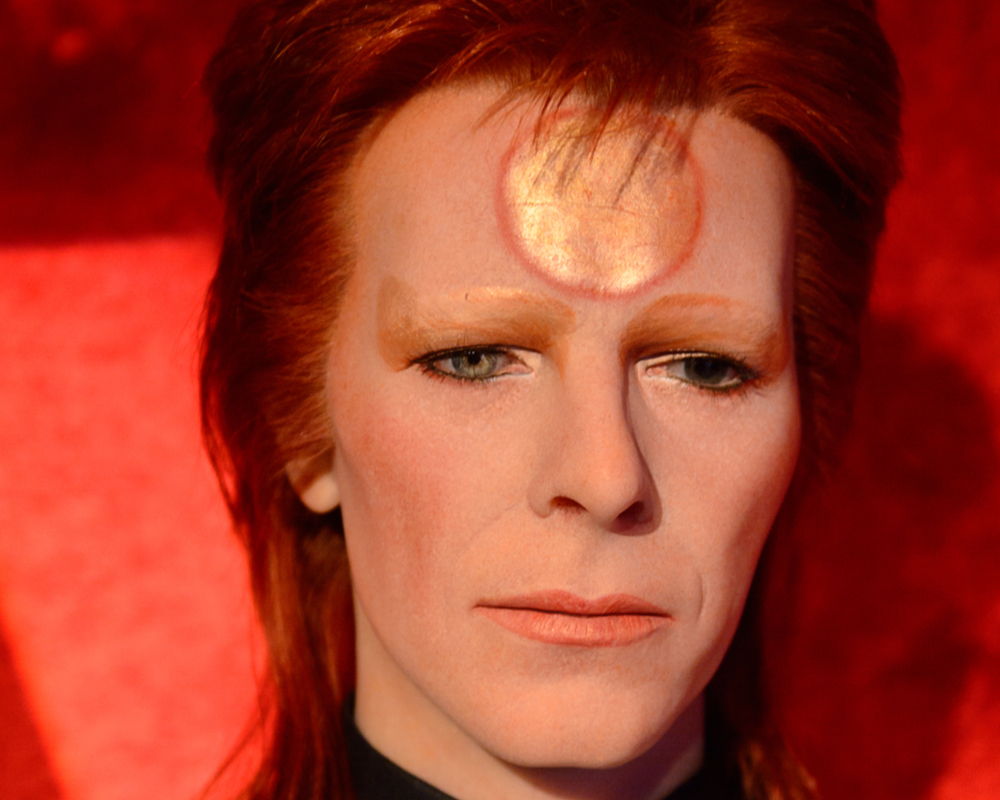 Photo credit: Anton_Ivanov / Shutterstock.com
80s hairstyles and makeup aren't just for women
There may be some men out there that want to try out some of these techniques out too. You don't have to go Bowie style and rock a giant lightning bolt across your face. A tiny one near your eye will do just fine. But when you turn back the clock to 80s hairstyles and makeup trends, you don't want to be too subtle either.
Let's talk about how to do 80s makeup that is found on the city streets right now (that you can easily steal!)
Another thing noticed by makeup and grooming artist Noelle Marinelli is this: "I have noticed much brighter colors on lips and eyes, especially reddish-pink and yellow tones on eyes and darker lips reminiscent of 80's goth style."
So modern makeup trends with a twist don't always have to have purple and blue eyeshadow. One of the big statements you can make in the eyeshadow department is reddish pink (so freaking hot!) and yellow tones. The gold shimmer is your new best friend when it comes to batting those lashes. Classic black mascara works with every eyeshadow and if you want to get really funky, match your mascara and eyeliner with the shadow.
Fake lashes are tremendous. Even when you get lash extensions at the salon, your eyes will scream "I'm here to be seen". A gold shimmer with heavy black eyeliner and wing-tips are also highly recommended. You will be placed on the pedestal.
If you want to go for an ultra classic 80s style makeup style, we've got one of the best ever!
The ladies from Robert Palmer's video "Addicted To Love" have one of the very best looks that will never go out of style. These guitar rocking ladies will be in fashion forever as far as we're concerned.
We'll show you how to do 80s makeup in this simple tutorial.
First, fill in your brows with a dark brown tone and fluff them up with a brow brush and set with brow gel or tamer.

Use some lid primer on your eyes then get black gel liner starting from the middle.

Pile on the black liner to a large wing that reaches toward the sky and underline your lower lash from the inner corner.

Use a contour brush to add on a dark smoky brown shadow.

Curl your lashes, unless you've got lash extensions. Then pile on tons of mascara!

Use a little concealer under your eyes and blend. Cover up any freckles or blemishes with the concealer then blend to really define the separation of your eyes.

Then use foundation and blend to your neck.

Use some matte powder to get rid of any shine.
We're almost done with this classic 80's makeup look you'll love!
Apply some dark pink blush on your cheekbones and a little above your brow. Make it stand out!

Now put on some dark pink, red lip liner and then a glossy candy red lipstick. Fill it in and get ready to rock! Oh yeah. We're talking the same color of red candy apples that you crave at the county fair. It'll make you want to take a bite of yourself because you'll look so delicious.
Now that we've gotten into some fundamental 80s makeup trends let's get to hair the that goes along with these bold styles.
"I am waiting for asymmetrical hair to have a comeback, and praying that huge bangs are left in the past.   I am also currently noticing more structured, chin-length bobs," said Marinelli. Who doesn't want an asymmetrical cut? You do! Unless you don't, and in that case . . .
If you're not ready to go under the beauty shop knife, you can do like the Palmer video girls do with their hair.
Here's the amazingly simple fix.
First, spritz your hair with water then put the hair gel throughout your locks.

Grab your fine-toothed comb and pull your hair back into a ponytail. If your ponytail is a little too dry, gel some more and wrap your hair into a tight bun. Use bobby pins to hold any stragglers at the back. Give a coat of hairspray all over and using your fine-tooth comb flatten out any stragglers.
We all know that people have different skin tones. If you have a darker skin tone, Marinelli has some tips for you too! "Highly-pigmented shades are key when using bright colors on darker skin tones.  An eyeshadow primer can also help to make colors pop, as can layering powder formulations over cream-based products."
We hope you've enjoyed these 80s makeup and hair tips. Now you can rock the streets with your new, um I mean retro 80's look.
You can read more makeup articles on Love is all colors!
1 responses to "80s makeup trends back in style in 2019"
Leave a reply
You must be logged in to post a comment.