3 Unusual Massage Types You've Never Heard Of
Posted by James, 07 Jul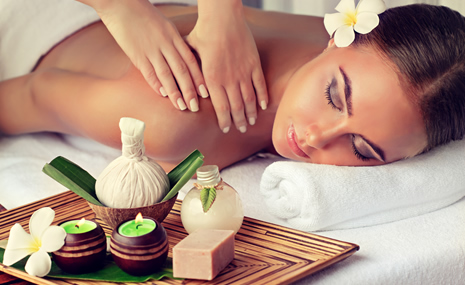 One of the best ways to unwind is with a relaxing massage. It's no secret that having a massage can promote enhanced mental clarity, as well as relieve pain and tension.
There are a lot of spas all around the world, offering massage therapy, from hot stones to deep tissue massage. But, have you ever thought about trying an animal massage or fire treatment?
Find your soulmate on InterracialDatingCentral










These 3 unusual massages will give you food for thought. The next time you're feeling the stress of daily life, why not try one of these weird and wonderful treatments. You may be surprised!
Animal massage
What image pops into your head when you think of an animal massage? You're probably thinking of a fluffy cat or dog, right? Think again! An animal massage with a snake or elephant is on the menu of spas around the world.
Ada Barak, a health spa in Israel offers six snake massages, relieving aches and pains. The non-venomous snakes, which include corn snakes, milk snakes, and Florida king snakes, are said to alleviate stress. The snakes used depend on the type of treatment required. Larger snakes are used to relieve muscle tension, while smaller snakes provide a fluttering effect.
Another type of popular animal massage is elephant massage. In Thailand, elephant therapy is used by gently stepping on people's backs to alleviate pain and stress.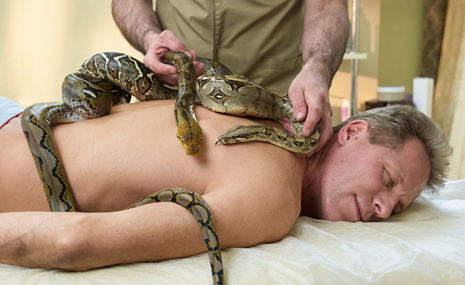 Fire massage
From a young age, we're told to stay away from fire. However, an ancient Chinese treatment incorporates fire to alleviate all types of issues.
The popular fire facial treatment, also known as Huo Liao, uses a towel soaked with alcohol and a secret elixir. This towel is placed all over the face, legs, and additional parts of the body. The towel is then set alight for several seconds before being put out.
So, what makes this treatment special, and is it safe to use? Setting alight the towel (in addition to the use of an elixir) is said to be stimulating, promoting brightness and a more youthful appearance. While this treatment is safe when undertaken by a trained masseuse, we don't recommend giving this a try at home.
Tantric massage
If you're wondering what happens in a tantric massage, pay attention! Tantric massage is a type of erotic massage, involving a trained massage expert.
While a nude massage may seem like it's based around sex, tantric massage is more than just about attaining orgasm. Tantric massage is a highly relaxing treatment with many therapeutic benefits. In addition to stress relief and alleviating depression, tantric massage can promote healthy relationships, self-esteem, intimacy, healing, and problems with erectile dysfunction.
Many people use tantric massage to improve their confidence or relationship with a partner. Tantric massage involves the stimulation of sensual areas to promote a wave of sexual energy throughout the body. This accumulates in a happy ending or an explosion of sexual energy. Throughout the tantra massage, the body and mind are in sync via a spiritual connection with the higher self. The connection you have with a partner is also enhanced.
Tantric massage isn't undertaken in a professional setting. It often occurs in your home or at a private residence, which ensures you're completely comfortable. Even those new to tantra will have their nerves eased with the comforting environment.
Tantric massage can occur on the bed or on a sheet on the floor, with soothing music, lit candles, and scented aromas filling the room. The massage starts by removing items of clothing. This can be done in front of all participants to create feelings of arousal. Hot oil is then used all over the body to help the masseuse glide their body over the participant.
The massage starts with gentle touches on intimate areas, before focusing on the genitals. This helps to stimulate feelings of pleasure. Focusing on differing sensations during the massage, as well as breathing techniques, aids the alleviation of stress and strain.
Both men and women can participate in tantric massage. If you're searching for a tantric massage in London, try Karma Tantric; London's premier massage service. Each staff is trained to provide the expert techniques required for optimal health and wellness benefits.
A massage to remember
If you're searching for something special, having an unusual massage may be just the thing you need to relieve your pain, tension, and stress.
An alternative massage like tantric massage is a deeply therapeutic massage guaranteed to put a smile back on your face, and get your friends talking!
Responses to "3 Unusual Massage Types You've Never Heard Of"
Be the first to leave a comment
You must be logged in to post a comment.